Federation of Bloodstock Agents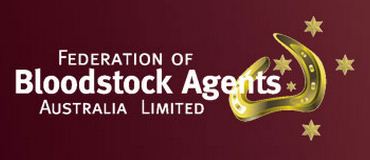 The Federation of Bloodstock Agents Australia Ltd was formed in 1988 to maintain, improve and develop the standards, status and services of Bloodstock Agents throughout Australia and to present and promote the views of it's members.
Right now, there are 30 member firms which are available to assist in the sale and purchase of bloodstock as well as assisting in matters pertaining to bloodstock valuations, consultancy, management, matings advice, insurance, shipping, and other related matters.
The Federation is the best point of contact for people requiring advice and guidance with their thoroughbred racing and breeding operations. The minimum requirement to become a member is five years operation and at present members have on average, been working in the bloodstock agency field for twenty three years.
Each member has agreed to abide by the Federation's Code of Ethics and is held to account via a complaints system which gives further assurance of integrity and professionalism.
---
Code of Ethics
A member must do nothing contrary to the standard of ethics and professional practice from time to time established by the Federation and observe the highest principles of professional probity and business practice. A member shall display if appropriate the logo of the Federation to indicate affiliation and observance of the Federation's Code Of Ethics.
A member, in the best interests of the public, the Federation, its members and his/her own business, should always be loyal to the Federation and be active in its work. He/she must do everything in his or her power to increase public confidence in the profession, to promote goodwill and friendly business relations amongst members, advance the interests of the profession and maintain its integrity and status. Members should suppress any dishonourable or unprofessional conduct or practice, be willing to share their experience with other Federation members and generally protect and promote the standing of the profession.
Members must strictly observe all statutory obligations imposed upon them and must observe them not only in the letter, but in the spirit.
Members shall avoid exaggeration, misrepresentation, or concealment of pertinent facts. Members have an obligation to discover adverse factors that a reasonably competent and diligent investigation would disclose.
In accepting employment as an agent, the member pledges himself/herself to protect and promote the interests of the client. This obligation of absolute fidelity to the clients' interest is primary. It does not relieve the member of the obligation to treat fairly all parties to the transaction.
A member's relationship with his/her client or customer should always be confidential.
Members shall not undertake to provide professional services where they have a present or contemplated interest unless such interest is specifically disclosed to all parties to the transaction.
Members shall not acquire an interest in or buy for themselves, any member of their immediate family, their firm or any member thereof, or an entity in which they have an ownership interest (other than a public company), bloodstock listed with them, without making the true position known to their clients.
When acting as agents, members shall not accept any commission, rebate, or profit on expenditure made for their client, unless such fact shall be first made known to the client.
A member must not attempt to supplant or compete with another member by any unfair or improper means.
A member shall at all times be responsible for the actions of his/her employees and anyone acting on his/her behalf in their business relations with fellow members, clients and the public in accordance with this Code Of Ethics.
The Federation has taken a stance on the use of steroids and hence on 11th April 2011 resolved that steroids should not be used in yearlings to be offered for sale. It is the Federation's view that vendors should make written notification of such treatments to the selling agents, and disclosure then made to the public prior to auction. However, it is understood that in rare circumstances steroids may have been administered as a necessity for the health of an individual yearling.
---
Members on Bloodstock.com.au
| | |
| --- | --- |
| | Anthony G. Cavanagh & Company Pty Ltd |
| | Belmont Bloodstock |
| | Bluesky Thoroughbreds |
| | Bryan R. Muschialli Pty Ltd |
| | David Bridgland Bloodstock |
| | Dynamic Syndications |
| | Inglis |
| | John Ford Bloodstock Agent & Consultant |
| | Laurel Oak Bloodstock |
| | |
| | |
| | Randwick Bloodstock |
| | Sheamus Mills Bloodstock |
| | Tim Stewart & Associates Pty Ltd |
---
Contact
If you require any information, please do no hesitate to contact
The Secretary, Tracy Howard
Email: Tracyhow@bigpond.net.au or bloodstockagents@hunterlink.com.au