The race is named for the river that runs along the back straight of Flemington Racecourse (and has often flooded the track like in 1974 and 2014). The Maribyrnong Plate was first run in 1871! It was run over 5 furlongs (1000m) until 1993. It was switched back to 1000m again from 1996 onwards
The 2017 field includes a million dollar Easter Sale buy, plus a colt from one of the best families in the Australian stud book! Interestingly, many of the runners are the maiden foals for their respective dams…
1. Bionics (C) (HINCHINBROOK x Bionic Girl [EXCEED AND EXCEL])
*Bought for $180,000 by Matthre Ellerton and Simon Zahra at the 2017 Inglis Premier Sale from Vieira Group Pty Ltd
*Dam Bionic Girl won over 1000m
*First foal for dam, who has a yearling colt by ZOUSTAR and was covered by DEEP FIELD last season
*3rd dam Coquetry produced G1 placed and 3x G3 winning sprinter CHONG TONG, who won down the Flemington straight during the Spring Carnival in 2001
*3x3 Danehill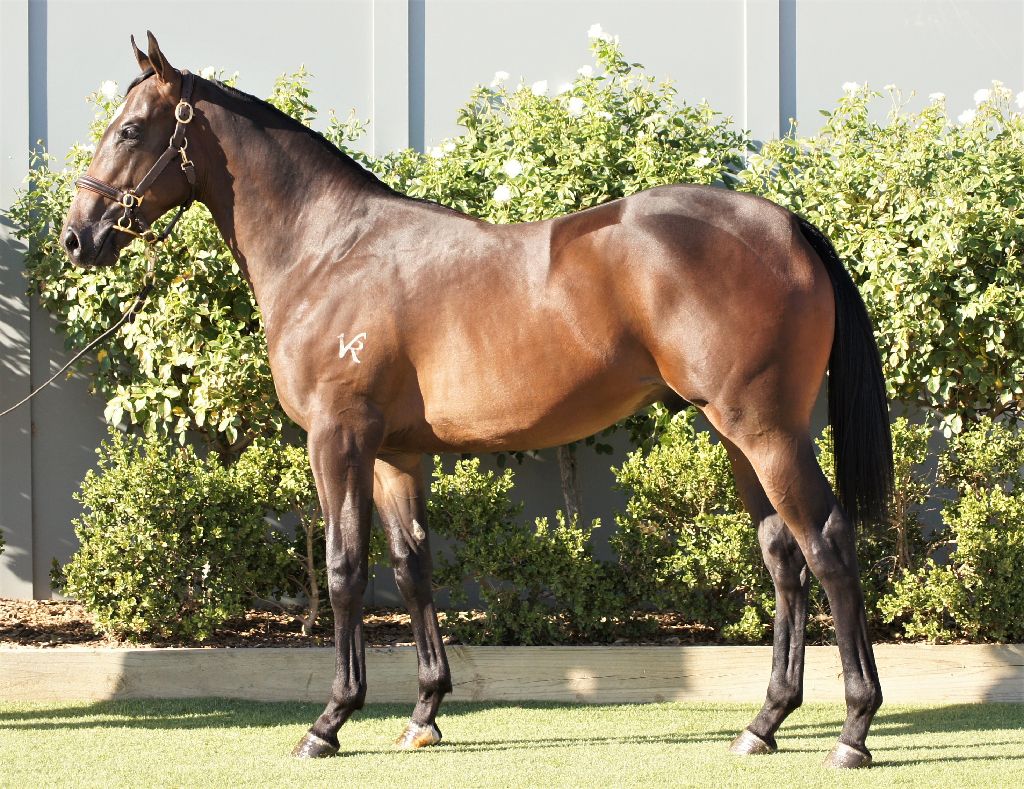 (Bionics as a yearling)
2. SCRATCHED
3. Run Naan (C) (MAKFI x Raneen [PERFECTLY READY])
*Bred and raced by Sheikh Mohammed bin Khalifa Al Maktoum
*MAKFI won the G1 2000 Guineas, shuttled to NZ and is the sire of BONNEVAL and SOFIA ROSA
*First foal for the dam, who produced a 2016 filly to ZOFFANY and is in foal to PRIDE OF DUBAI
*Dam is a 1/2 sister to South African G1 winner RUMYA & dual G2 winner in Aus BADAWIYA
*Further down it's the family of RAGEESE and RAIHANA
4. Encryption (C) (LONHRO x GUELPH [EXCEED AND EXCEL])
*What a family this is! Going back to Jesmond Lass on the dam side (5th dam), who produced Golden Slipper winner turned sire CANNY LAD, CANNY LASS (dam ASTUTE ANGEL, AL JAMEEL, CAUSEWAY LASS), SISTER CANNY and the unheralded broodmare – Canny Miss…
*Canny Miss produced G1 winner CAMARENA, in turn the dam of CAMARILLA, GUELPH, GHIBELLINES, INDUNA and Watchful – dam of SEPOY and MULAAZEM!
*Dam of this colt, GUELPH, was champion 3yo filly in Australia 2013-14, winning 4x G1 races (2 as a 2yo)
*This is GUELPH'S first foal, she has a yearling LONHRO filly and recently foaled a colt by LONHRO on 27/09/17
*2nd dam is CAMARILLA as outlined above
*3rd dam CAMARENA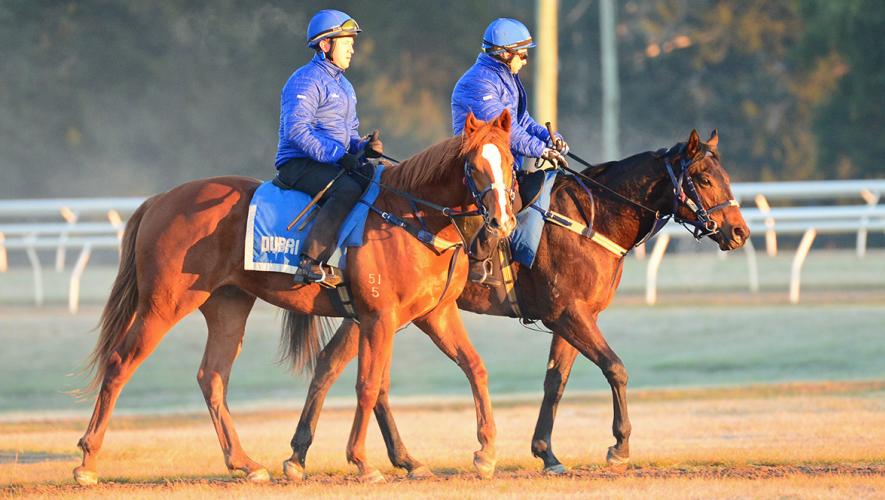 (Encryption far side (bay))
5. Sanglier (C) (ALBRECHT x More Haste [Brief Truce])
*Part of ALBRECHT'S first crop to race
*1/2 brother to PROVERB – G3 winner of Gunsynd Classic in QLD and LR Dulcify Hcp
*Dam was G2 placed in Emancipation Stakes – she's a 1/2 sister to DEXTROUS (dam of SKILLED, AMBIDEXTER, SIDESTEP)
*Last foal for dam, who was retired from the breeding barn in 2016 – she's produced 9 named foals, 6 to race so far for 5 winners
*2nd dam Many Hands was G3 placed as well, she's a 1/2 to ACCUMULATION
6. King (C) (WRITTEN TYCOON x BRILLIANT BISC [ELVSTROEM])
*A $1million yearling for James Harron Bloodstock from the Turangga Farm draft at the Inglis Australian Easter Yearling Sale
*Dam BRILLIANT BISC won the LR Gimcrack Stakes and is a 1/2 sister to stakes placed Moon Fever (dam of DASHING FELLOW & AERONAUTICAL)
*Maiden foal for dam – she's also had a colt by I AM INVINCIBLE and a colt by EXOSPHERE on 25/10/17
*2nd dam STELLA CADENTE, won the G1 Australia Stakes plus the G2 Tea Rose and G3 Furious Stakes
*Family of AT THE OASIS, Wolf Cry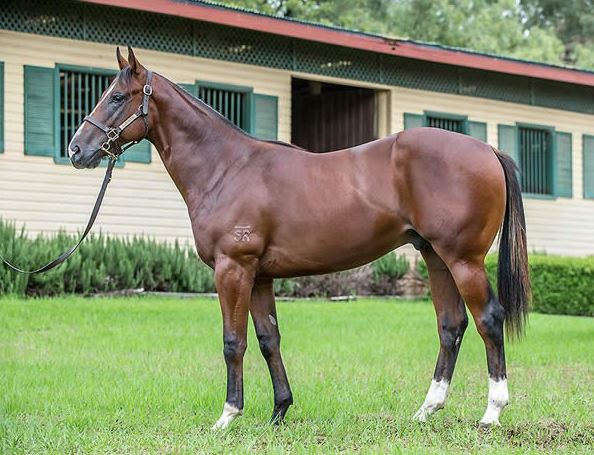 (King as a yearling)
7. Northern Voyage (C) (CHOISIR x Sacred Voyage [DUBAI DESTINATION (USA)])
*Bought for $450,000 by Gai Waterhouse and Adrian Bott at the MM Sale from the Widden Stud draft
*Dam is a 1/2 sister to dual G1 winner of the Doncaster and Myer Classic SACRED CHOICE
*Sacred Voyage has had two foals to date, Northern Voyage her first and a yearling colt by STAR WITNESS, she was covered by STAR WITNESS again last season
*The ill-fated DUBAI DESTINATION is the broodmare sire of 25 stakes winners, including GOLDEN HORN, winner of The Derby at Epsom, POSTPONED, SILENT SEDITION and DUTCH CONNECTION just to name a few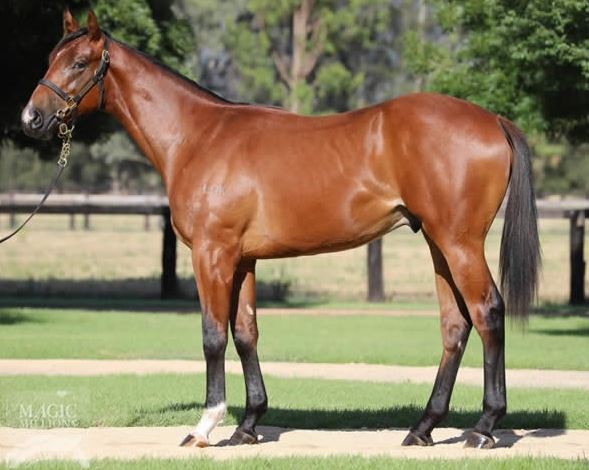 (Northern Voyage)
8. Really Swish (C) (REAL SAGA x SWISH TRISH [REDOUTE'S CHOICE])
*Raced by breeder
*Dam won the LR SAJC Redelva Stakes and produced the stakes placed Silver Falls – Spring in Macau
*Dam died last October, having been covered by SO YOU THINK the season prior, Really Swish is her last foal
*2nd dam SMYTZER'S TRISH was a G3 winner, produced 8 winners from 10 foals to race
*3rd dam Patronella produced 13 winners from 16 foals (all of which raced), including ALIYANA TILDE, TEASPOON, STELLA ARTOIS (dam of FREESTYLE)
9. SCRATCHED
10. Belzella (F) (BEL ESPRIT x Gazelle [INTERGAZE])
*Raced by breeder
*No black type in first 3 generations
*Dam has produced three named foals, two to race, both winners
*Dam has a yearling colt to AKEED MOFEED but then slipped to FREE EAGLE
*INTERGAZE is the broodmare size of SINGLE GAZE and LE VAL
11. Final Choice (F) (NICCONI x Divine Choice [ROCK OF GIBRALTAR (IRE)])
*1/2 sister to LR Debutant Stakes winner WAIT FOR NO ONE, who also ran 3rd in a Maribyrnong Plate!
*Dam was 2nd in the LR Maribyrnong Trial Stakes, she's a 1/2 sister to VALENTIA
*Dam produced a colt by SEBRING in 2016 and was then covered by SEBRING again
*3rd dam Ever Elegant produced SUPER ELEGANT, ELEGANCY, MISTER ELEGANT
12. Raise The Roof (F) (I AM INVINCIBLE x Lissande [FASLIYEV (USA)])
*Bought by Shane Nichols Racing for $110,000 at the MM Sale from the draft of Musk Creek Farm
*Dam 1/2 sister to G1 Golden Slipper winner PROWL, I ROCK MY WORLD and the dam of STOKER
*Dam was exported to Indonesia in May this year, RAISE THE ROOF is her last registered foal but she was covered by SMART MISSILE last season
*3rd dam BEFORE DAWN was the Top Filly in the USA in 1981, a dual Grade 1 winner
*Family of BIG GOLD, SUMMER LINE, MARANILLA
*FASLIYEV is the broodmare sire of 34 stakes winners including BIG ORANGE, FELL SWOOP, MISS ROSE DE LAGO and AWESOME PLANET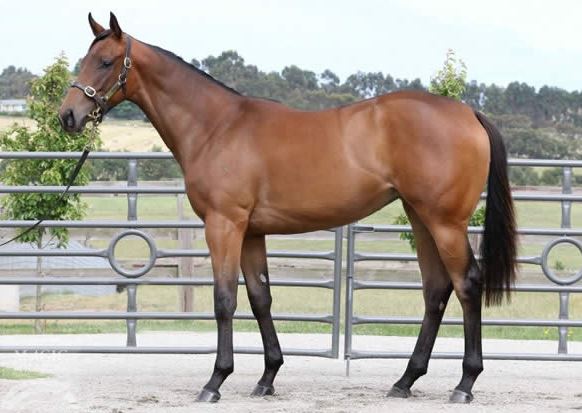 (Raise The Roof as a yearling)