The first VRC Oaks was run the same year as the inaugural Melbourne Cup – 1861 and won by Palestine.
Some of the great filly's and mares of the Australian Turf have won the Oaks, including Melbourne Cup winners Evening Peal and Light Fingers, plus Cup runner-up Chicquita and a recent Caulfield Cup winner in Jameka. Champions of the turf such as Surround, Research, Slight Chance, Magical Miss, Miss Finland, Mosheen, Faint Perfume and Samantha Miss. And just as importantly, breeding matriarch's such as Leica Show, Denise's Joy, Rose Of Kingston, Tristanagh and Grand Archway just to name a few – who have many Stakes winning descendants.
1. ALOISIA (NZ) (AZAMOUR (IRE) x Queen Boudicca (NZ) [PERFECTLY READY])
*Passed in at 2016 NZB Select Sale when offered by Brighthill Farm
*Sire AZAMOUR won 4 G1's including the St James's Palace Stakes, he was a son of NORTHERN DANCER stallion Night Shift, himself a full brother to wonderful mare Fanfreluche
*Aloisia is part of AZAMOUR'S only NZ crop – he died at Gilltown Stud in 2014 after he sustained an injury in his box
*First foal for dam Queen Boudicca, who has since had a filly by KEEPER and a 2016 colt by SWISS ACE
*Dam was 3rd in G2 Matamata Breeders' Stakes
*Family of CANNED HEAT – BEAR WITH ME (HK) and SAVVY DANCER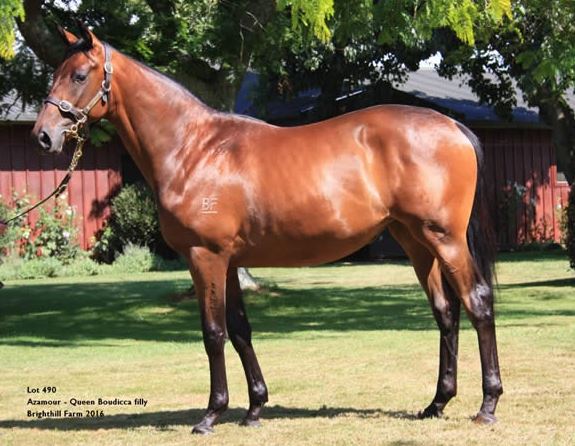 (Aloisia as a yearling)
2. LUVALUVA (NZ) (MASTERCRAFTSMAN x Wansesingyee [GALILEO (IRE)])
*Bought by John Sargent at the 2016 NZB Ready to Run Sale for $55,000 from Surrey Farm
*Dam is a 3/4 sister to LR winner LUVULEO – she was covered by BURGUNDY last season
*MASTERCRAFTSMAN was a winner of the Irish 2000 Guineas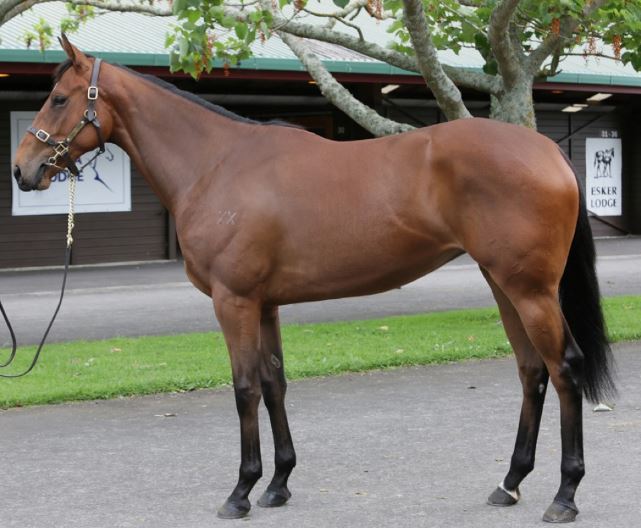 (Luvaluva as a yearling)
3. BRING ME ROSES (HIGH CHAPARRAL x Freckled Face [POLISH PATRIOT (USA)])
*1/2 sister G3 winner FACE VALE, also 2nd G1 Caulfield Guineas, the stakes placed Face of the Earth (dam of G3 winner DIAMOND EARTH) and minor winner Sun Kisses (dam G3 placed Greytfilly)
*Dam 1/2 sister to international stakes winners DON RAFFAEL, IVORY PRINCESS
*Dam retired November 2015 – her last foal was a 2015 colt by SO YOU THINK – she produced 12 named foals overall – 9 to race – ALL winners
*3rd dam MY FAIR MAID a LR winner in USA
*Family of MISS MATCHED, BECKY IN PINK, SAVUTE, GOLDEN IVORY, COUNTRY ISLE, ISLAND SKIPPER, MOT TELBIN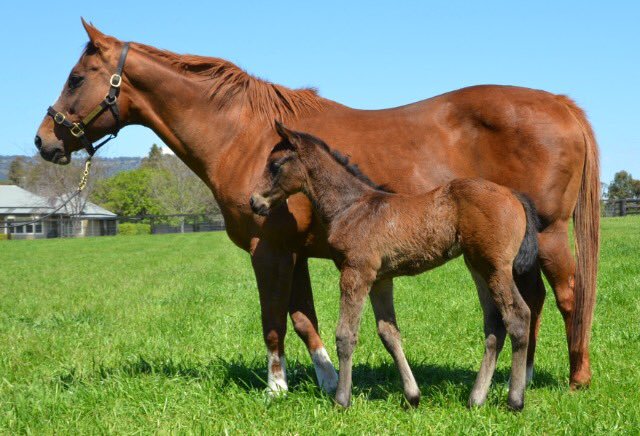 (Bring Me Ross with dam Freckled Face)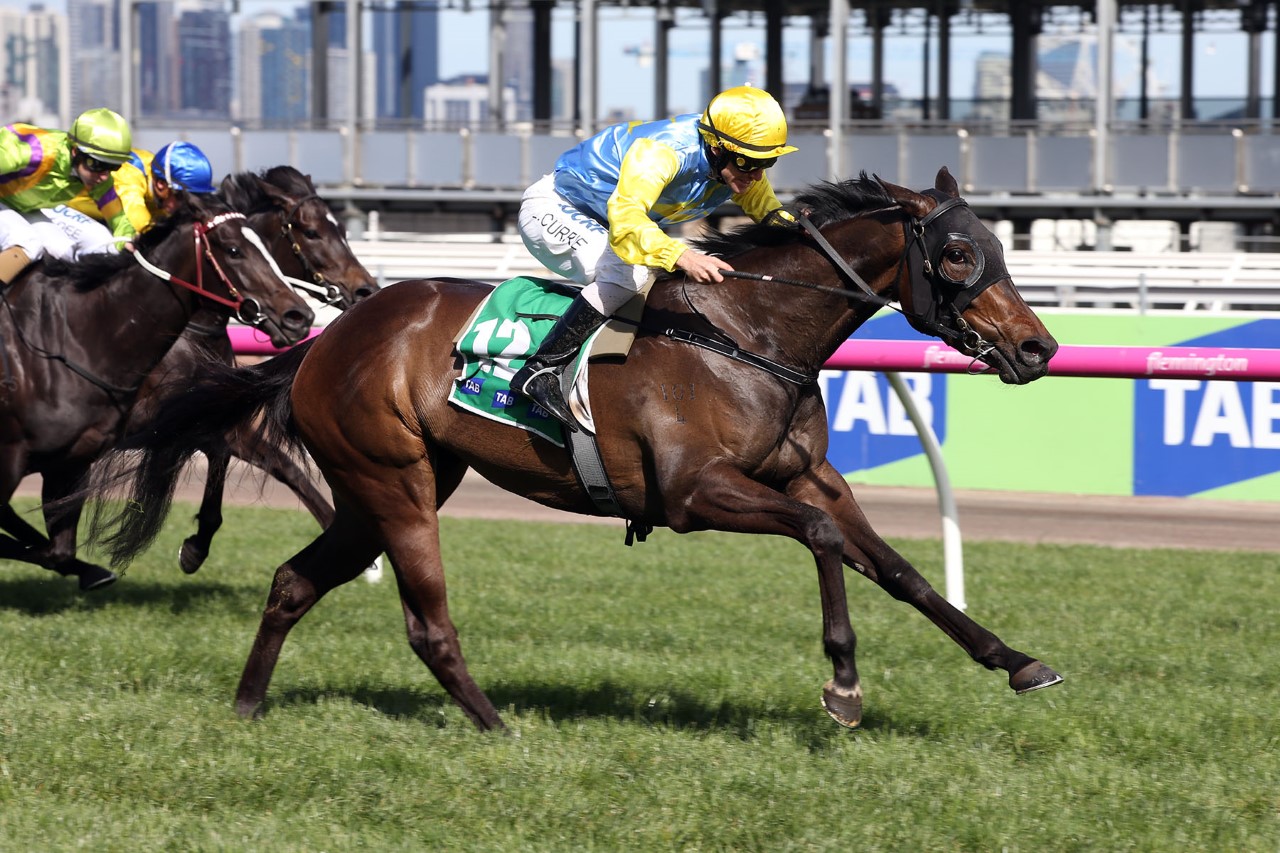 (Bring Me Roses)
4. PINOT (PIERRO x DIZELLE [ZABEEL (NZ)])
*Offered by Coolmore Stud at the Inglis Easter Yearling Sale – sold for $200,000 to American Syndicate Eclipse Thoroughbreds
*1/2 sister LR winner DIZLAGO and multiple Group placed Lucky Lago
*Dam DIZELLE came from the clouds to win the 2005 Australian Oaks, also won a G2 and G3, she's the dam of 7 named foals – all raced – six winners
*DIZELLE is a full sister to SUBSCRIBE – VENGEANCE OF RAIN (HK Horse of the Year), BERNICIA, (dam of OLD NORTH)
*2nd dam DANELAGH a G1 Blue Diamond Stakes winner and runner-up G1 1000 Guineas
*3rd dam PALATIOUS G2 Perth Cup and CB Cox Stakes winner
*Family CABLE – WELL DONE
*4x2 cross of ZABEEL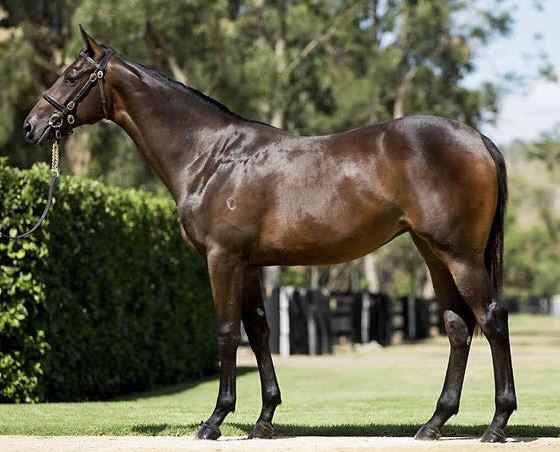 (Pinot as a yearling)
5. Rimraam (NZ) (COMMANDS x Swansea [SINGSPIEL (IRE)])
*Offered by Rosemont Stud at the MM Sale and was bought by Shadwell Australiasia $340,000
*1/2 sis SWEYNESSE – dual G3 winner and runner-up in G1 Randwick Guineas
*Last live foal for the mare
*2nd dam River Swan is a 1/2 sister to MISS FORTUNATE (dam CHOCOHOLIC), TRIAL BY JURY & WORDLY WAYS
*3rd dam FANTASTIC WAYS by SECRETARIAT is a LR winner in USA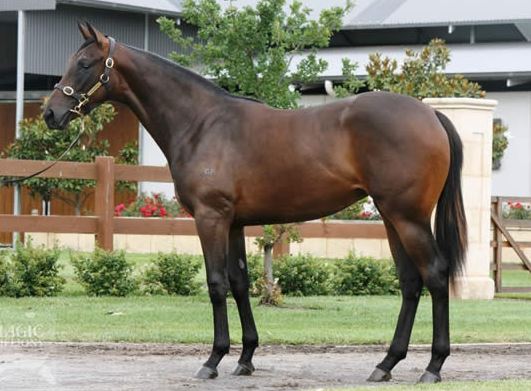 (Rimraam as a yearling)
6. Hiyaam (NZ) (HIGH CHAPARRAL x Mazarine (NZ) [ZABEEL (NZ)])
*1/2 sister to Hiyaam, Game Duchess is the dam of G3 Manawatu Classic EXQUISITE JEWEL and stakes placed Nordic Duke
*Dam full sister to SHOWER OF ROSES, 3/4 sister Australian Derby winners turned sires OCTAGONAL & DON EDUARDO, plus MOUAWAD, PERUZZI (dam LUCIDA)
*Dam has produced 10 named foals, 4 to race, 2 winners
*2nd dam MARQUISE (NZ) won G1 Captain Cook Stakes
*3rd dam is the blue hen mare Eight Carat
*Family also includes TRISTALOVE, KEMPINSKY, DIAMOND LIK, VIKING RULER, DE BEERS, FOREVER LOVED, LOVETRISTA, ANTWERP, VISCOUNT, DANEWIN, COMMANDS, ASTORIA – the list goes on!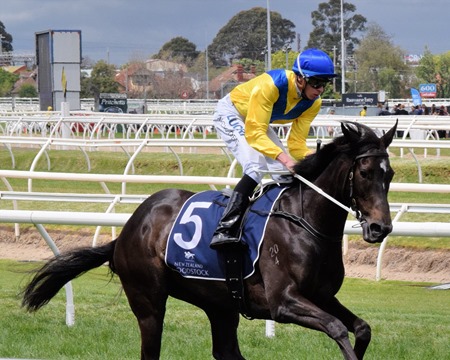 (Hiyaam)
7. LUCKY LOUIE (PLUCK (USA) x La Bella Luisa [Clang])
*By Breeders' Cup Turf Juvenile winner PLUCK (by MORE THAN READY)
*Dam LR placed – has produced one winner from two foals to race
*No real black-type to speak of in the first three generations of the female family
*Dam has a yearling colt by UNCLE MO and was covered late by CHOISIR last season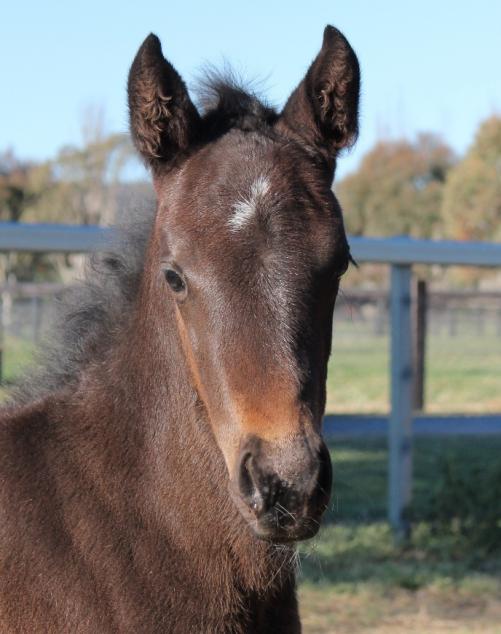 (Lucky Louie as a foal)
(Lucky Louie as a yearling)
8. Reliable Dame (RELIABLE MAN (GB) x Rosey Dane [WOODMAN (USA)])
*Freedman Racing paid $155,000 at the MM Sale from the Westbury Stud draft
*RELIABLE MAN sired Victoria Derby runner-up to ACE HIGH in SULLY last Saturday
*Dam has produced six foals, four to race – all winners
*2nd dam ROSE OF DANE (by DANEHILL), was a LR winner and multiple stakes placed, including 2nd G1 WATC Karrakatta Plate
*Family of RAZZLE DAZZLE ROSE & RISING EMPIRE – champion 2yo in Singapore in 2012
*Damsire WOODMAN is the broodmare sire of previous Oaks winner MISS FINLAND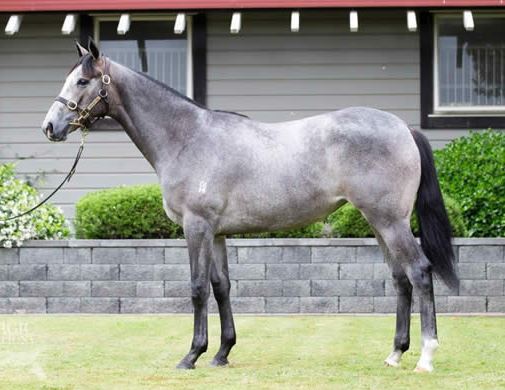 (Reliable Dame as a yearling)
9. Sweet Mischief (NZ) (ZOFFANY (IRE) x Sugar Cube [OCTAGONAL (NZ)])
*Was originally sold for $15,000 as a weanling, then pin-hooked through 2016 Inglis Classic sale for $110,000 to McEvoy Mitchell Racing
*ZOFFANY was champion first season sire in GB/IRE in 2015 – sire of 13 stakes winners to date including VENTURA STORM
*Dam was placed as a racehorse, she's produced 3 named foals, 2 to race, 1 winner
*Sugar Cube recently foaled a filly by HOLY ROMAN EMPEROR on 15/09/17, she wasn't served in 2014 or 2015 so SWEET MISCHIEF is her most recent foal before this season
*2nd dam Sorbet is a 1/2 sister to multiple stakes winner and G1 Salinger Stakes winner FLAVOUR, plus Parfaits (dam of QLD Derby winner SONNTAG)
*3rd dam ICE CREAM SUNDAY was a 3x Listed winner
*Family RASPBERRIES – dam of Malahat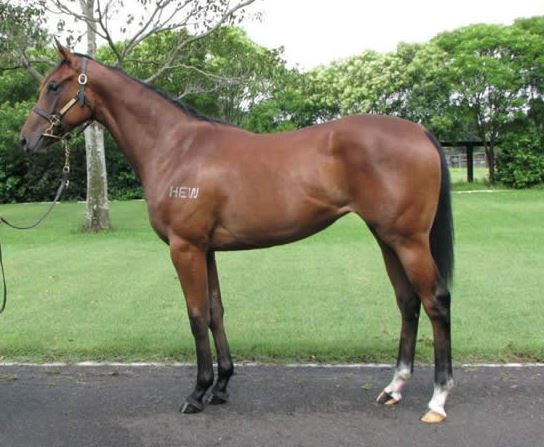 (Sweet Mischief as a yearling)
10. Four Koalas (ANIMAL KINGDOM (USA) x Dianthus [Red Ransom (USA])
*1/2 Valerio 2nd G3 Sweet Embrace and LR placed Rocksan
*ANIMAL KINGDOM is a Kentucky Derby winner whose oldest Aus progeny are 3yo's
*Dam is an unplaced sister to the dam of ROCKET COMMANDER and a 1/2 sister to OUR BELLITION
*Dam died in 2010, overall had 6 named foals, 4 to race, 3 winners
*2nd dam SLIGHTLY PINK a LR winner in WA and 2nd G1 WA Oaks
*Family of VOLITANT, GRAND CANYON
11. Circuleight (C) (SEBRING x ALLOW [RAHY (USA)])
*Sold for $230,000 by Newhaven Park to B2B Bloodstock
*By the extremely versatile sire SEBRING – who has sired 34 stakes winners to date, including DISSIDENT and CRITERION
*Dam ALLOW won the QLD Oaks, grand-dam of G3 placed PETRACCA (recently sold through Inglis Digital Oct Online Auction)
*Dam missed to I AM INVINCIBLE last season, has a yearling grey/bay colt by DELAGO DELUCE and a 2yo full brother to Circuleight called Siedler
*2nd dam Gweneira is a 1/2 sister to French G3 winner SPRING OAK (dam Castlereagh) and FRAGRANT HILL (dam of FIVE stakes winners in France: G1 winners FRAGRANT MIX & ALPINE ROSE, FRACASSANT, FASTINATING MIX and FARFALA – in turn the dam of LR winner UNDER THE RAINBOW)
*3rd dam ENGLISH SPRING won Prince of Wales's at Royal Ascot in 1986
*Most of the female family are grey, including first 3 dams and many of their progeny
(Circuleight as a yearling)
12. Miss Admiration (SEBRING X Admiring [STREET CRY (USA)])
*Offered by Glastonbury Farms at the 2016 Inglis Easter Yearling Sale, sold to Yu Long Investments for $210,000
*Dam Admiring was runner up in the G2 WA Oaks, G3 WATC CB Cox Stakes and LR Natasha Stakes,
*Dam has produced 3 named foals, all raced 2 winners, she has a 2yo ZOUSTAR colt and a colt by DEEP FIELD, born 22/08/17
*2nd dam BALLET GIRL a LR winner in WA, produced LR Belmont Classic winner EMPIRE DANCER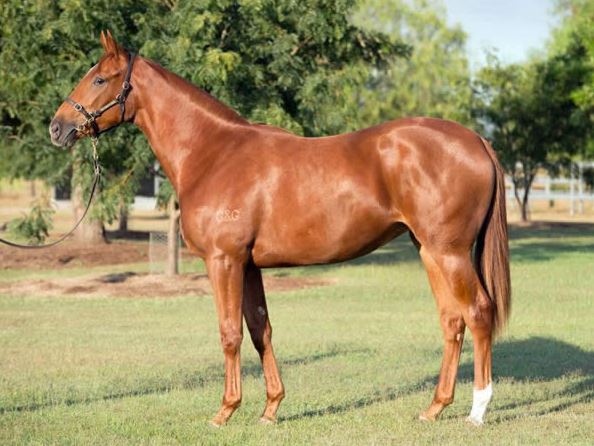 (Miss Admiration as a yearling)