Our biggest win for the 2016/17 Season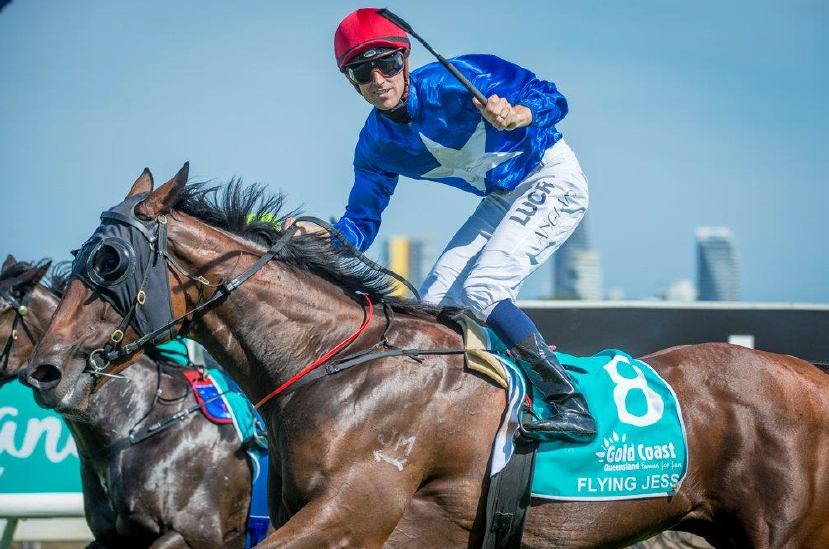 Flying Jess winning the $2 million Magic Millions Guineas 2017 GOLD COAST MAGIC MILLIONS – WHAT A WEEK!!!
Flying Jess's win at the Gold Coast in January was one of the greatest moments in the 20 years history of Prime Thoroughbreds. In fact, the whole week at Magic Millions was quite amazing. The week has become quite an event but for me the main focus is and always will be the yearling sale. I knew this year's Magic Millions sale was going to be expensive and it deserved to be. This sale has grown in stature over the years but has really cemented its position as one of the two best yearling sales in the Southern Hemisphere. The international bench assembled for the sale sees representatives from all the major racing countries and some others attending.
I had done plenty of work heading into the sale and had the most yearlings vetted than I had ever had done before for a sale but needed to. I was confident I had the sale well sorted but at the end of day two had only secured one yearling from the 40 I had on my list. In any case I finished up with five beautiful fillies and wouldn't swap them for any other horses sold that week. They are by All Too Hard, I Am Invincible, Sebring, Smart Missile and Sizzling. Each of these yearlings is by Australian bred sires. It makes a lot of sense for us to support the local horses. They represent 15 of the top 20 horses on the Australian General Sires List for 2016/17 Season which is a trend that hasn't changed much over the years.
To be honest Magic Millions day was a bit of a blur. I was up early at the stables to check on Flying Jess and some of our other six runners at about 5am. I then went to the sales complex and inspected the yearlings I had on my list for that night. I had more runners at the Magic Millions meeting than any other buyer so there was plenty to do making sure everything was in order. Remarkably these seven horses cost only $435,000 to purchase for an average of just $62,000 each which was way the under of the average for the yearling sales they were purchased at.
I was obviously thrilled when Flying Jess won but felt with luck in running we may have won a couple more races. Everyone was ecstatic after her great win with plenty of emotion flowing. She had just beaten some of the very best of her age racing in Australia. John Moloney had done a marvellous job with the filly and Tye Angland gave her as good a ride as you are ever likely to see.
I had a few yearlings on my list for the Saturday night session and needed to keep my head so only had a couple of glasses of bubbly to celebrate. I purchased two beautiful fillies that night and by the time I got home was exhausted but relieved and satisfied our plan hatched on Adelaide Sires Produce day had come off. The remainder of the sales series was fairly uneventful but I clocked up plenty of frequent flyer points over the next four months. I purchased yearlings at the Inglis Classic Sale and the Magic Millions Adelaide, Perth, National and Tasmanian Sales. I've learned over the years to keep an open mind as you never know where you might find a nice horse and is important to go to most of the sales. Our runners on Magic Millions day were purchased from The Gold Coast January and Adelaide Magic Millions sales. In fact, three had come out of the Sunday session.
I would like to thank our owners for their great support and I hope I have purchased each of you a good horse. It isn't an easy assignment but I am very happy with our team of 51 horses heading into the new season.
PRIME TEAM OF TRAINERS HAVE GREAT SEASONS
Congratulations to our team of trainers. They have had good seasons. Darren Weir as Australia's leading trainer once again deserves special mention. He just breaks records year in year out. Kris Lees has done a remarkable job finishing 5th on the National Trainer's Premiership. I was confident I was on a winner when I appointed him as our NSW trainer when Bill Mitchell retired at the end of 2005. Twelve years later he is our biggest trainer and consistently does a wonderful job for us.
Tony Gollan again won the Brisbane Trainer's Premiership. It hasn't been an easy year for the Eagle Farm based trainers but their new stable complexes are now completed and things should start to look up. Dan Morton had a good season in Perth maintaining an excellent winning strike rate. Stuart Gandy finished 4th on the Tasmanian List with a winning strike rate of 18.8%.
John Thompson finished in the top 10 in Sydney with 31 less runners than the next trainer on the list. Patrick Payne finished top 10 in Victoria with a staggering 101 less runners than the next trainer above him on the list. John Moloney had a great year with his team of just 25 horses in work more than doing the job. Tony McEvoy finished 3rd in SA in a year where he has been consolidating his team after closing his Sydney stable.
We shouldn't forget the stable staff. They do a magnificent job looking after our horses for each of these trainers. It is a tough demanding job but I doubt if there is any other industry where the workers are so dedicated. They do a remarkable job and are very proud of their horses.
2016/17 SEASON IN REVIEW – TWO BIG STORIES
There was so much that I could write about when I looked back on the season that was. There is one standout. Her name is Winx. I never thought I would see another horse race in Australia as good as Kingston Town. I was lucky enough to be posted in the Army in Sydney when he was racing and marvelled at his sheer brilliance and versatility. In Winx we have a horse as good as him, not better and it is difficult to compare horses from different eras. She has done so much to promote our industry at a time we needed a champion. She is a champion and should be enjoyed by everyone while she races. It may be a long time before we see one as good as her.
I spoke with Kris Lees yesterday about 'The Everest' and he said nothing in his time in racing had generated as much interest. He said every second person he sees at the races wants to talk about it. Kris is likely to have two runners Le Romain and Clearly Innocent. Both these horses are very good gallopers with Chautauqua having not beaten Le Romain in their two meetings. I can't wait for the race. It will be interesting to see the final makeup of the field. There has been a lot of negative press in Victoria surrounding 'The Everest'. On the day it was announced I was contacted by a prominent Melbourne journalist and asked my opinion. When I said I thought it was a wonderful idea and that I looked forward to watching its development he came back at me saying that a well-known owner of one of the now favoured horses was against the idea and that it wouldn't get off the ground. It is amazing what $10 million in stakes money can do to change someone's opinion.
Look at this way. 'The Everest' is going to highlight what the Australian breeding industry does best, that is breeds the best sprinters in the world. Given this shouldn't the richest race in Australia be run for the sprinters? It will be interesting what the final collective purchase price of 'The Everest' field is. I'm tipping the average purchase price could well be below $100,000 which gives anyone purchasing a yearling with a sprinting pedigree the chance of eventually getting a starter in the big race. Personally, I couldn't give a hoot if no international sprinters turn up for the race, keep the money here.
By comparison, our second richest race is the iconic Melbourne Cup which comes in at $6.2 million. Who and what does it support? There is every chance there will be no Australian bred horses in the great race this year. Most likely the Australian owned runners will be purchased overseas, costing a lot more than the average price of the runners in 'The Everest'. I hope an Australian owned horse wins our iconic race. I am certain the Melbourne Cup will continue to hold a very special place in the Australian calendar but could you please name five runners likely to line up in this year's Melbourne Cup. It isn't hard to name five runners likely to line up in 'The Everest'. Try these Chautauqua, Le Romain, Houtzen, She Will Reign, English, Clearly Innocent, Black Heart Bart and Hellbent for starters. Personally, I like Clearly Innocent although there is a lot of water to pass under the bridge between now and race day on 14 October.
Next year when 'The Everest' is moved to Friday night under lights at Randwick, we will have one of Australia's great sporting events at one of the very best racecourses of the world. Well done to Racing NSW and The ATC for having the foresight and intestinal fortitude to try something out of left field. They are on a huge winner.
In any case the introduction of 'The Everest' has done more to promote our industry for all the right reasons than any other race I can remember. It is a pity it will be run on the same day as the Caulfield Guineas meeting which is a very important one on our calendar. Perhaps it is time for the leaders of our industry in NSW and Victoria to sit down and sort out their differences.
SIRE LISTS
I spend a lot of time studying the results being produced by the sires standing in Australia. You can never do enough research and it is important not to get sucked into a sire through the deeds of one of his progeny. They generally will all get a good one. At the end of the day we still need to purchase the right horses but you can save a lot of money and time at the sales by cutting out yearlings that have little or no chance of being successful on the track.
The Sire Tables for the season just finished tell a story. This was Snitzel's season. He is the Champion Sire, Champion Two Years Old Sire and Champion Three Years Old Sire.
I like to see where sires sit at the end of their third season of having runners on the General Sires List. This year Hinchinbrook and Star Witness finished in the top 20 on this list. This almost always indicates we have something special emerging. Over the past decade the sires to achieve this achievement were Snitzel, Street Cry, Fastnet Rock, Not A Single Doubt, Sebring, High Chaparral, Choisir, Stratum Northern Meteor and Lonhro.
The only two sires currently in the top 10 on the Australian General Sires List not to achieve this were I Am Invincible and Written Tycoon with I Am Invincible finishing 21st in the 2015/16 season. These two horses have had magnificent seasons.
I'm reserving my comments on this year's first season sires. While they may appear to be a bit off where we expect them to be in reality none of them produced really explosive juvenile types of horses. It will be interesting to see where they sit after Christmas. I think we will see a different picture to the one we are looking at now. It is a bit scary given the leading first season sire Pierro's yearlings grossed $15,090,000 at the Inglis Easter and Magic Millions January Sale alone and in their first season have earned just $872,635 on the track!!!
The NZ based sires have continued to underachieve in Australia with none featuring in the top 30 on the Australian List. This must be a concern for NZ Bloodstock because plenty of NZ bred horses run in Australia.
FLEMINGTON COMMITTEE ROOM LUNCH 20 JANUARY 2018
I have been amazed at the response to this function and should have further details available shortly.
VISIT TO ASCOT FARM
We had one of our best visits on Sunday when we headed to Ascot Park to view our spellers there. Over 30 people took the opportunity to come out to the beautiful property on the Hawkesbury River and left very satisfied their horses are being well cared for.
Our thanks go to Bob and Chris Hannon, Danny and Ami Kerr for the effort they put into the visit and also to Lewis Page for parading our breakers.
On Sunday I left Ascot Park a very happy man with high expectations for the cracking team of horses we have assembled. As they say 'let the games begin'.
PERTH VISIT
On Saturday morning 5 August at 9am our clients in Lady Husson will have the opportunity to inspect her at Dan Morton's Stables at Ascot. Any of our other Perth based clients are also welcome to attend.
The address is 7 Aurum Street Ascot.
YEARLINGS
Our yearlings are really starting to fill up quickly. I have only two shares remaining in the Hinchinbrook filly 3/4 sister to Unchain My Heart going to Kris Lees and probably three at the most in our Sizzling colt going to Tony Gollan.
This year has been as strong as I have seen for interest in not only our horses but also Prime Thoroughbreds. We had over 27,000 views of our website last week. I am crediting a lot of this interest to the great job Racing NSW has done over the past couple of years promoting the industry so positively in that state. To be fair though, our enquiries are coming from across Australia and also from overseas.
QUEENSLAND YEARLING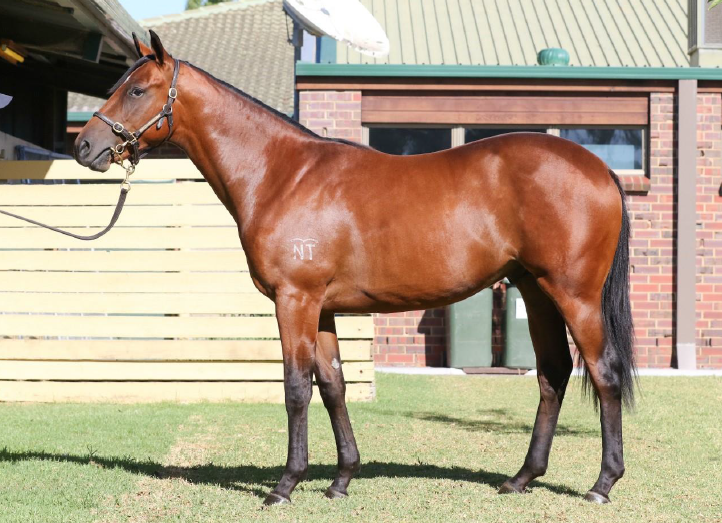 Sizzling /Dedication colt – Tony Gollan
10% shares $8,500 5% shares $4,250
This is a cracking colt and he certainly attracted my attention at the sales where he was one of only two colts I had vetted. He is well grown and a very athletic horse. He has a wonderful attitude and is nice walking horse. He handled the breaking in process without any issues.
I love his pedigree and more than that I was instantly attracted to him when I inspected him. If you don't like a horse when you first inspect it you should never buy it.
In my opinion this colt was as good an individual as I inspected in the sale and a colt I really wanted to secure. I only usually purchase two colts a year.
I really liked what I saw in a number of the progeny of Sizzling at this year's sales. To me it is a no brainer that he will be a success at stud. He was a terrific racehorse and precocious two year old from the most dominant sire line in Australia for the past 20 years out of a 'black type' mare by one of the greatest sprinters of the modern generation in General Nediym. General Nediym has done a remarkable job through his daughters at stud with him currently sitting in 5th spot on the Australian broodmare list. This isn't surprising. The 'General' had good depth to his pedigree on his dam's side with his daughters residing at the very best studs in Australia.
Sizzling's pedigree page is very strong with a host of very good horses down the page. In fact it couldn't be any stronger with both the 2nd and 3rd dams being superior producers. I love the General Nediym (1st dam), Alzao stakes winner (2nd Dam) and Without Fear stakes producer (3rd dam) down the page. Estate Label, the 3rd dam was a very high class producer also throwing the outstanding two year old filly Loving Cup.
I must say I had a bit to do with both sides of this pedigree with Sizzling's sire Snitzel being out of Snippet's Lass. Both General Nediym and Snippet's Lass were trained by Bill Mitchell when I was his Racing Manager. They were both high class racehorses with Snippet's Lass being one of the toughest mares I have had anything to do with.
Dedication
Dedication is a young well related mare by a sire that has had a great impact in Australia through his daughters at stud and provides a perfect outcross to the many Danehill line sires we have standing in Australia. A close look at this female line displays plenty to be enthusiastic about.
Firstly, Singspiel has crossed beautifully with the sons of Danehill with the high class Australian Group 1 winners Helmet and Epaulette being amongst the thirty two Group winners his daughters have thrown.
Secondly, there are several examples of Danehill working in this pedigree headed by Alverta, the Group 1 winning daughter of Flying Spur, Group 3 winner Aerobics and stakes performers Violet Lane and Star Mystic.
On the strength of my opinion of this colt and the Sizzling filly I purchased at the Gold Coast Magic Millions I have recommended to our owners that we send three of the mares I manage to Sizzling. I rate him a huge chance at being a success at stud.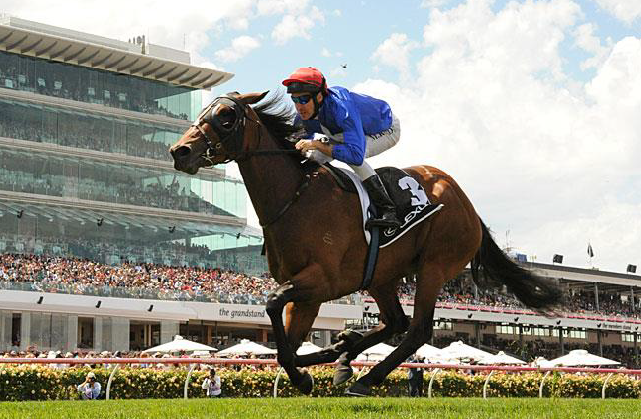 Hijack Hussy winning at Flemington trained by Tony Gollan Melbourne Cup Day
NSW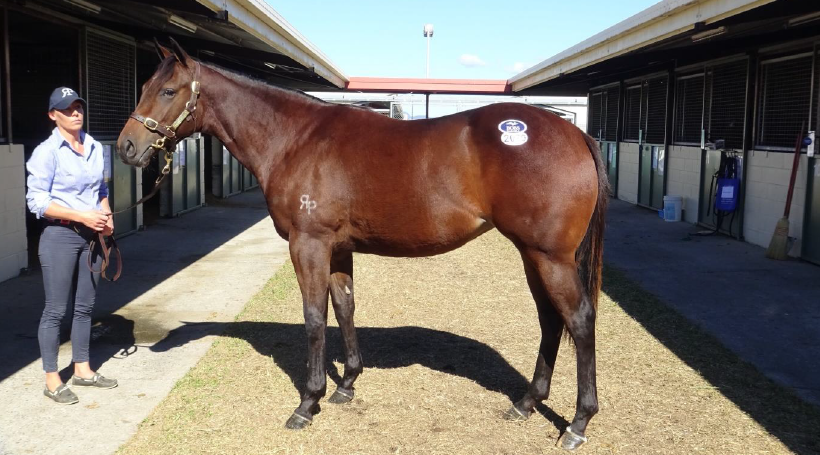 Hinchinbrook / Fly By Night / Kris Lees – Newcastle
10% shares $8,500.00 5% shares $4,250.00
¾ Sister to Unchain My Heart
When you look at this photo you see a very good, well balanced filly reared on one of our best thoroughbred nurseries. After I did my inspections at the Magic Millions National Sale I was determined to get this filly. I purchased the first two foals out of Fly By Night and have inspected all her foals since but for one reason or another none really grabbed me. To her credit Fly By Night has had 6 winners from 7 to race.
This filly is very strong through the hindquarters and has a nice presence to her. She has an attractive head and for a November foal is well grown. I'm not concerned that she is a late foal as I would expect her to get to the races as a late two year old or early three year old.
The first foal I purchased out of Fly By Night was a colt by Strategic which went to on to race as Captain Chaos. He as a handy galloper winning in Sydney, Brisbane and Hobart and was stakes placed.
The second foal I purchased was the very good staying mare Unchain My Heart. Unchain My Heart won 10 races from 1400m to 3200m. She won three times at stakes level and $595,580 in stakes money. She was one of only two Australian bred horses to compete in the 2014 Melbourne Cup. She won the 3200m Andrew Ramsden Stakes on two occasions and also the time honoured Bagot Handicap.
I'm absolutely thrilled to have secured such a nice filly for a reasonable price. She will be paid up for BOBS and the Magic Millions Series Of Races.
Hinchinbrook is one of our very best young sires having been Champion First Season Sire in 2014/15 Season in Australia. He followed this up by being Champion Second Season Sire in 2015/16 Season and is currently leading the Third Season Sire's List.
I supported Hinchinbrook from day one sending the best mare I was managing at the time to him. I must say I have learned a lot about the horse since that time and got it right purchasing Flying Jess at the 2015 Magic Millions Yearling Sale. She has established herself as one of the best fillies in Australia beating the Duel Group 1 winner Global Glamour and boom horse Winning Rupert in the $2 million Magic Millions Guineas.
I have another nice three year old filly named Honolulu Lass and two, two year old fillies by the horse including Kissing Game who was placed at Canterbury at first start. I have purchased two yearlings by the sire this year that gives us six of Hinchinbrook's progeny on our books.
It wasn't hard for me to be attracted to Hinchinbrook. He is the son of Snippet's Lass the best mare Bill Mitchell trained while I was his racing manager. Snippet's Lass was a wonderful race mare by the Champion Sire in Snippets from an outstanding North American family. This filly reminds me a lot of Snippet's Lass. She wasn't big but beautifully put together, strong and had a great will to win. Snippet's Lass is also the dam of Champion Sire Snitzel. She has made a huge impact on the Australian breeding landscape.
It should be remembered Hinchinbrook was a very smart racehorse winning twice at two including the ATC Skyline Stakes. He was also the first colt home in the Golden Slipper. He has already sired an outstanding colt with Press Statement winning at the highest level and is now at stud.
While it is early days for Hinchinbrook his figures are stamping him as a sire of the future and the mating with this filly should prove to be a very good choice. I am expecting as we move forward for Hinchinbrook to be more of a classic type of sire in the mould of his grandfather Danehill.
Correct as at 12/07/17