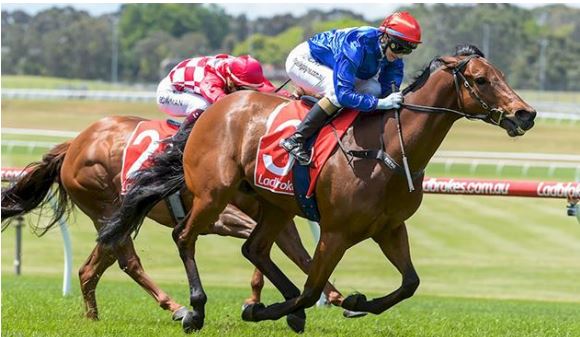 Husson Eagle, Invincible Al and Hussy's Glow trained by Patrick Payne Likely to line up at Flemington for Finals Day this Saturday!!!
It has certainly been a roller coaster week for our industry. The tragic news of Donna Philpot's death after a fall at Bendigo came as a real shock to the tight racing community in the city. A few days later news came through that Roger Booth had died after having a major heart attack not long after riding a horse in Darwin. Both these people were very well regarded in our industry and again it is sad to write our thoughts and prayers are with their families and friends at this difficult time.
It has been interesting to see the reaction to TAB CEO David Attenborough's comments regarding the industry in Victoria's close link to the Corporate Bookmakers. TAB Corp has long been the major provider of funds to the industry not only in Victoria but also in NSW. The Minister for Racing in Victoria is scheduled to announce the new Chairman and Board of RVL. I'm certain there will be a lot of interest in its composition. The industry really needs strong and reliable leadership and while the caretaker Chairman has done a good job it is time to get things moving.
'The Everest' continues to attract a lot of attention and its sceptics and detractors may be looking for a log to hide under as we head towards the race. Personally I think it is a great thing for the richest race ever to be run in Australia will be run over the distance that best showcases the horses we breed best, our sprinters
ON THE TRACK
Patrick Payne's talents as a trainer will be on display at Flemington this Saturday where he is likely to start three of the four runners he has in work for us at present in Winter Final races. Not only will he start three runners but each of them is a genuine chance. Husson Eagle, Invincible Al and Hussy's Glow are a great advertisement for our selection processes and also the way we manage our horses. Husson Eagle and Hussy's Glow were purchased from the Adelaide Magic Millions Sale and Invincible Al out of the paddock from Yarraman Park.
These three horses were purchased for a combined total of just $109,500 and have won 11 races and $1,210,468 with plenty more to come with Invincible Al and Hussy's Glow being only three years of age. Should Husson Eagle win he will take his earnings past $1million which would be a great effort.
The average purchase price for the horses that went through official sales nominated in Invincible Al's race is $149,600 (IA cost $50,000) in Hussy's Glow's race $96,545 (HG cost $17,000) and Husson Eagle's race $130,812.50 (HE cost $42,500). The most expensive horse purchased at official sales in each of the races is Overstep $400,000, Special Diva $420,000 and Tashbeeh at $520,000. These three horses have won $838,482 to date!!! Our other runner is the staying three year old Tough Vic who heads to Donald where he will step out over 2000m for the first time this preparation. His two runs for Darren weir have been very good with him improving with each run.
SIRE TITLES
As we head into the last four weeks of the 2016/17 Season the Sire Lists make for interesting reading. Snitzel has a mortgage on the Champion Sires title leading Street Cry by almost $1 million. Street Cry's overall earnings have been inflated with Winx earning half his total for the year. If there is to be a change in the top positions it could come from I Am Invincible who given his strike rate and number of runners and winners may well overtake Fastnet Rock into third place. I Am Invincible was placed 21st last season. The other big mover is Hinchinbrook from 31st to 17th place. The Yarraman team are on fire.
Snitzel has the 2yo List covered with I Am Invincible and Husson making significant moves. Husson has jumped from 99th to 9th with just 12 runners representing him. Snitzel also leads the 3yo List with I Am Invincible, Hinchinbrook and Star Witness the big movers. I Am Invincible is popping up everywhere.
Not A Single Doubt leads the 4yo List with Lope De Vega the surprise in 7th place with just 51 runners representing him, or is this a surprise? I don't think so. I thought his first crop of yearlings, now four year olds were outstanding and purchased his most expensive filly which unfortunately lost her eye. She was a good filly.
The first season List is a battle between Pierro and All Too Hard. There is a chance All Too Hard will overtake Pierro as we head deep into July. All Too Hard is having a steady flow of winners with four in June compared with Pierro's two. The second season List sees Foxwedge, So You Think and Smart Missile the three contenders. Foxwedge should get over the line but has been given a huge boost from Foxplay with a 1/3 of his stakes money. The third season List sees Hinchinbrook and Star Witness in a close contest. Well done to Flying Jess for helping her sire Hinchinbrook to hang on to the top spot. We certainly have a few interesting weeks ahead of us as we head towards 1 August 2017.
TASMANIAN RACING
There are some positive signs coming out of the 'Apple Isle' with news that the Hobart track will be replaced after next year's Hobart Cup. This will see Hobart closed for 12 months but Tas Racing and the TRC have no option but to close the track down and get the job done properly.
I'd love to see an all-weather track inside a turf track with the trainers located at the Brighton Training Centre relocated back to Elwick. There is plenty of room to achieve this and make the Elwick Complex a vibrant thoroughbred precinct. An announcement is expected regarding stakes payments in the coming weeks. Small steps but positive with Tasmania likely to be a winner out of the TABCORP/ TATTERSALLS merger
VISIT TO INGLIS COMPLEX AT WARWICK FARM
I am arranging a visit to the new Inglis Sales Complex at Warwick Farm. My plan is to plan the visit around a Saturday race day at Randwick with Inglis informing us that the best day for the visit is a Friday afternoon. This complex is world class and will be a real eye opener when you see it. For more information on Riverside Stables Click Here.
I will post more details once I have them but I can assure you the visit will be very worthwhile. Inglis first sale at the new complex will be conducted early next year with the Inglis Classic kicking off proceedings. This is a big investment by Inglis and really confirms their commitment to Australian Racing of which they have been an important part for over 150 years. We have purchased some great horses from Inglis over the years including Under Command, Desk Top Lover, Zero Drama, Maha Chakri, Graphite Lass, Zelady and of course Savoureux.
Our Yearlings
It has been very encouraging to see our yearlings so well accepted by the market. At this stage I expect all our yearlings to be completely filled by the end of July which is four months earlier than last year. We have shares available in yearlings in Victoria, NSW and Queensland. . To view all of Prime Thoroughbreds Yearlings Click Here.