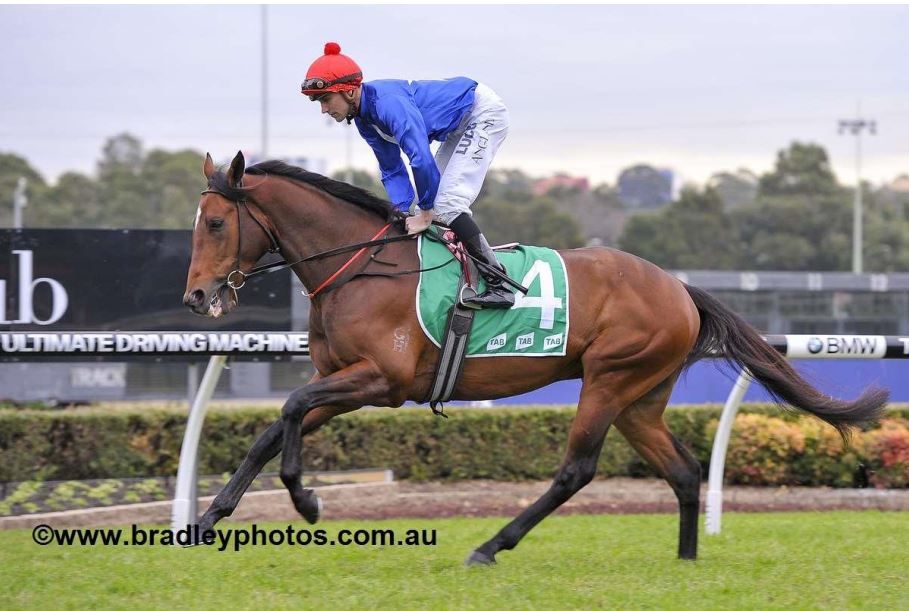 Reneged pictured before his win at Canterbury
Reneged - A cracking horse!!!
Once again I look at the calendar and another week has gone by. I am starting to feel very confident that our industry in Victoria is starting to fire. The figures that came out during the week where turnover on Victorian racing passed $6 billion for the current financial year was great news. This is the first time this has occurred. Interestingly, the mark was passed in the race won by Invincible Al at Flemington. This positive news added to the increases in stakes money due to commence in August are the lifts we needed after a couple of years where it hasn't always been plain sailing.
INGLIS GREAT SOUTHERN SALE
The Inglis Weanling Sale at Oaklands Junction is going very well with the highest priced weanling to date being a More Than Ready colt out of Calming Influence which sold for a sale record of $310,000. I went out on Friday to inspect him but quickly realised he was out of my budget. I purchased Calming Influence at the 2012 Magic Millions January Sale for $77,500. Shortly after I purchased her I was approached by Brian Marheine who wanted to purchase the filly and I sold her to him. Calming Influence was then on sold this year at the Inglis Easter Broodmare Sale for $570,000. Brian and his family have a long history with Prime Thoroughbreds. The first horse we syndicated was Let's Jive which was reared at the Marheine's Stratheden Stud.
Calming Influence was out of our very good mare Calming. I paid $40,000 for Calming at the 1999 Gold Coast Magic Millions Sale. Calming's progeny have been sold and resold for $2,472,500 over the years. Quite extraordinary!!! Calming Influence was the only yearling I purchased out of Calming. She was by far her best on the track and her only stakes winner. It is hard to believe it is 18 years since I purchased Calming. These were heady days for Prime Thoroughbreds and Bill Mitchell.
Later in 1999 year Bill Mitchell purchased Youthful Presence by first season sire Dehere. She didn't race but has been an outstanding producer with her throwing the Group 1 horses Hauraki, Academus and Kidnapped as well as some other very handy runners. A year later I purchased Zelady, another outstanding broodmare.
Another good filly purchased that year was French Braids by Flying Spur. She won the Silver Slipper and should have won the Golden Slipper where she struck severe interference in the straight. She was out of Flying Spur's first crop. It is little wonder we love first season sires so much.
GEOFF TORNEY AM
When we moved to Melbourne in 2001 we were well received by many people. One of these people was Geoff Torney who was Chairman of the Moonee Valley Racing Club at the time. He was a welcoming man, quiet but he had a sense of confidence about him. I was thrilled in 2004 when Zero Drama won the Geoff Torney Cup. I was sad when I received news of his passing last week. He was a very capable man who will leave many legacies.
I have always had a soft spot for the MVRC and felt it was one of the friendliest and most welcoming clubs in Australia. The environment and culture established in the club is the legacy of people like Geoff Torney. The MVRC is about to enter the most exciting stage of its history with a major redevelopment which will make it the envy of many other clubs in Australia. This development includes a complete redesign of the track with new grandstands and a residential precinct included.
DARREN WEIR
I wrote last week that Darren Weir was quickly approaching 400 winners. I didn't expect him to go past that mark as quickly as he has but then anything Darren does shouldn't surprise you. He has been a glowing beacon in Victorian racing for a few years now and has a great attitude to life and his profession. Congratulations to him and his team.
ON THE TRACK
Reneged's win at Canterbury was outstanding and may have heralded the arrival of a very good horse. It is amazing what a difference gelding makes to a colt. John Thompson has done a terrific job with the horse and he is likely to line up on Saturday week at Rosehill where he should be very competitive. A race like The Inglis Villiers Stakes could well be very suitable for him.
This Saturday will be another busy one for us with Husson Eagle and Invincible Al heading to Flemington, Savoureux perhaps to Randwick although there is a chance she may line up in the Group 1 Tattersall's Tiara at Doomben. The weather and track issues in Brisbane have caused quite a disruption to Savoureux's preparation. Chalmers is likely to run on Thursday at Newcastle. He will get a wet track which he likes. He is by Mossman like Reneged with most of the breed just loving soft ground.
I was pleased with the run of Zelsignoret on Saturday at Moonee Valley. She got into an impossible position but was good late when she got into some space. She heads out for a spell. Unfortunately Casa De Lago had a slight cold on Sunday morning and needed treatment. A decision will be made later in the week as to whether we push on or head to the paddock. She has done a good job and is a beautiful filly heading forward.
JOCKEYS
Congratulations to Tommy Berry on gaining a licence to ride in Hong Kong. It appears to me our jockey academies are doing too good a job. It is amazing just how many of our best riders are based overseas particularly in Hong Kong. You can't blame them for chasing the opportunities to ride overseas. Not only is it very rewarding financially but having to ride at only two meetings a week is a great incentive. Look at this list of riders currently riding outside Australia. Michael Rodd, Brett Prebble, Chad Schofield, Tommy Berry, Zac Purton, Sam Clipperton, Steve Arnold, Danny Beasley, Glen Boss, John Powell, Vlad Duric and Blake Shinn to name a few. The loss of these riders leaves a big hole in the available talent and is perhaps something that needs to be addressed by our leaders.
OUR YEARLINGS - To view all of Prime Thoroughbreds' yearlings CLICK HERE