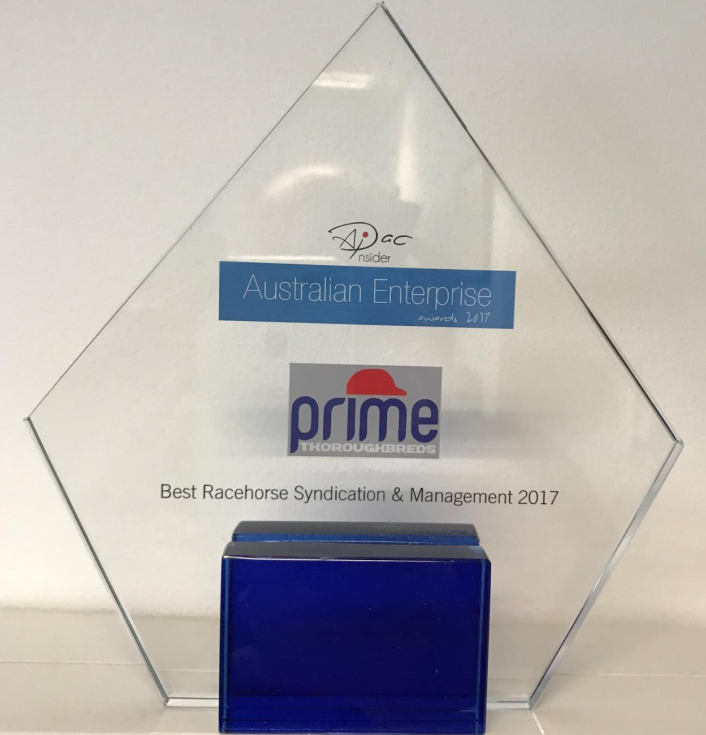 In February, I received an email from APAC Insider Magazine informing me Prime Thoroughbreds had been nominated for an Australian Enterprise Award and asked would I would accept the nomination. I must say at the time I was sceptical about the nomination but investigated further and established the awards were legitimate and I forwarded the information requested to APAC Insider and accepted the nomination.
In April, I received notification that we had been awarded the Best Racehorse Syndication and Management Company for 2017. I must say I was over the moon to receive this news but decided to keep it quiet until I was certain all was above board. Well it was and the trophy pictured above arrived this week. Running a syndication business is very demanding and at times can leave you feeling drained but I love the challenges it poses and I get great satisfaction when we have success.
The wins on Saturday by Hussy's Glow and Invincible Al are why I do it. The looks on the faces of our owners after Invincible Al's win had to be seen to be believed. Michelle rode him to instructions and he never looked in danger once he started to accelerate. That win is right up there with the most exciting ones we have had in our twenty year history. I have met some wonderful people through the business and have a great affinity and respect for the participants in the racing industry. I doubt if there is another industry that places so many demands on its workforce.
One of the most enjoyable and rewarding aspects of our business is working with our trainers to plan suitable programs for our horses. This is particularly important once you have established you have a horse with above average ability. For example, the planning that went into Flying Jess and Husson Eagle's big Magic Millions wins started months before the races were run. A lot of work goes on behind the scenes with our trainers having the job of maximising the returns to our owners by their horses.
For most of our owners racing is a hobby, their passion and it gives me great satisfaction when they get a positive result from their faith in us to buy them the 'right' horse. Unfortunately, we won't always hit the nail on the head but we do have some very positive outcomes. The award we received is recognition of the long hours we have put into Prime Thoroughbreds, to Maree and my family and the countless people we deal with. I have no doubt we have the most professional team around us that could be assembled. Our results on the track are testimony to this combined effort. Thank you to each of you for your support and hopefully I can continue to purchase plenty of winners.
PRIME'S VICTORIAN TRAINERS
I wrote a few months ago how pleased I have been with Darren Weir, Patrick Payne and John Moloney's performances for us. They have been exceptional with Patrick really excelling for us over the weekend. Patrick is an exceptional talent. He can train two year olds through to steeple chasers and has a great affinity with his horses. This was on display for all to witness on Saturday.
On Saturday we had three runners, all in metropolitan races and trained by Patrick. Patrick felt our first runner Husson Eagle had drawn on the wrong side of the track. Straight racing can be fickle and his assessment proved correct although the horse finished strongly and will now head back to Flemington in two weeks. Patrick's handling of Hussy's Glow has been first class with the filly winning three of her past four starts. Yesterday she was superbly ridden by Raquel Clark who didn't look like a three kilo apprentice the way she threaded her way through the field. Raquel comes from Tasmania where she was apprenticed to Barry Campbell with this win being her 100th. She is now 23 years of age and rode her first winner just two years ago at her first ride. She looks to have a big future.
Patrick really put the icing on the cake with Invincible Al running the fastest sectionals of the day at Flemington destroying his opposition with a paralysing sprint with his final 600m being run in 32.29 seconds. He will head back to Flemington in two weeks. I love horses that have a great turn of foot and can let down quickly. The plan was to ride Invincible Al back with cover and to hold him up until the 300m. Once he let down it was all over with him running 2 ½ seconds quicker than some of his opposition for his final 400m. This was an outstanding gallop.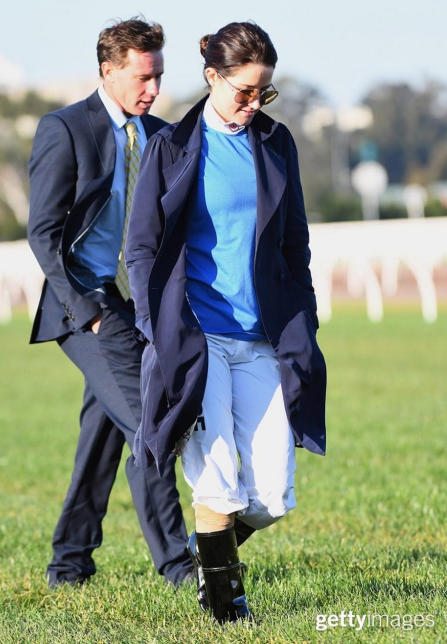 Patrick walking the track on Saturday with Michelle leaving nothing to chance!!!
In total I have purchased Darren, Patrick and John 14 yearlings which are now of racing age. 13 of these have raced with nine winning 20 races with all 13 still in our racing team and the 14th in work with Darren Weir. The non-winners to have raced are the promising quartet of Black And Tan, Casa De Lago, Honolulu Lass and Kaera Jaani. The nine winners cost $659,500 and have won $2,695,707 thus far. The most expensive was Great Southern at $240,000 and cheapest Hussy's Glow at $17,000.
With all 14 still in our team and the best ahead of most of them you just wonder how much they will return by the time their racing careers are completed. I have added six really nice yearlings to our Victorian operation this year with each trainer receiving two each. The three trainers have also done a good job with tried horses we have relocated to them with four of the five winning after we moved them.
DARREN WEIR
It was only a matter of time before Darren passed Lee Freedman's record for the most Metropolitan winners in Melbourne. Darren has raised the bar like no other trainer before him and will almost certainly pass 400 winners for the season in the next couple of weeks.
Prime Thoroughbreds is a relative new comer to Darren as a trainer but already his results are outstanding with the six horses he has sent to the races for us winning. I think more to the point the job he has done with the yearlings I have purchased him deserve special mention. He trains five horses of racing age that I purchased for him as yearlings. Four of these have been to the races, all winners. The four have had 16 starts for five wins. This equates to a strike rate of 31.25% which is exceptional. This is almost double that of the combined average for Australia's top 20 trainers (17.09%). The fifth is an I Am Invincible two years old filly named Invincible Amici who is back in work and should get to the races during this preparation. She is a nice filly.
This year I purchased Darren two beautiful fillies by Written Tycoon and Smart Missile. These are very good types from great running families. They are filling up quickly.
ON THE TRACK
We certainly had a great week with two metropolitan winners as well as Chalmers making a nice debut. We have a few nice hopes coming up with Reneged running at Canterbury on Wednesday. He looks well placed. On Saturday our very progressive two year old Zelsignoret lines up at Moonee Valley. She was very good winning last start. Go Arrivederci is likely to run at Morphettville on Saturday. Metropolitan runners in three states!!! Our other runners may include Chastity Strikes, Casa De Lago and Honolulu Lass.
HINCHINBROOK
Hinchinbrook gave us a couple of timely reminders of just how good a sire he is over the weekend with Salsonic scoring a great win in the Group 2 Queensland Guineas and then Beat The Clock won impressively in Hong Kong. Hinchinbrook has a handy lead in the Australian 3rd Season List over Star Witness and may well finish the season as Champion 3rd Season Sire following on from his successes in his first and second years.
I purchased a beautiful Hinchinbrook filly at the Magic Millions National Sale. She is a sister to our very good mare Unchain My Heart and stakes placed Strategic gelding Captain Chaos. I will be submitting the paperwork for her to Racing Victoria this week and she will be trained by Kris Lees. I expect to have information available on her next week.
Not to be out done by Hinchinbrook, Yarraman Park's other resident sire I Am Invincible had five winners over the weekend headed by Invincible Al. He has an incredible 76% winner's to runner's ratio with his three year olds with no other sire within a bull's roar of him.
To view all of Prime Thoroughbreds' yearlings CLICK HERE