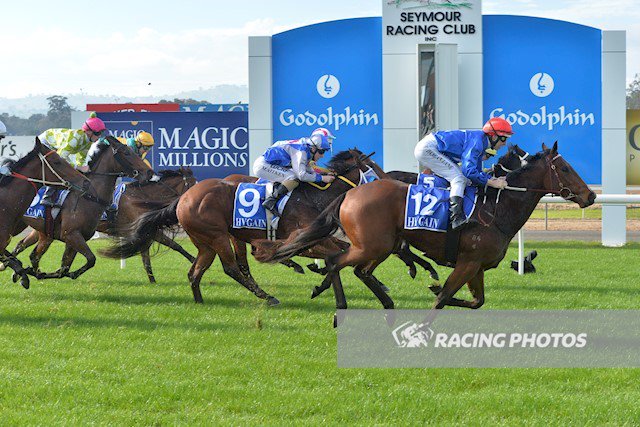 Zelsignoret continued the very promising start by our two year old team scoring a strong win at Seymour on Tuesday. She did a great job having to be restrained back in the field from the outside gate but really putting her head down in the straight and running over the leaders in the big field in the closing stages of the race. One of the most telling aspects to her win was that she was a length in front not far past the post. She is a beautifully bred filly by Snitzel out of Signoret who is a half-sister by Annaba to El Tegra who was a talented horse we syndicated.
It is interesting to note that Darren Weir who doesn't have a lot of early two year old runners is the leading trainer of juvenile winners in Australia for the past 60 days. Darren has raced two of the three two year olds he trains for us with both winning. The 3rd Invincible Amici heads back to Darren shortly after a month of pre-training.
I purchased Zelsignoret at last year's Magic Millions National Sale which has been a good source of winners for us over the years.
EAGLE FARM
I think everyone interested in racing was wondering how the Eagle Farm track would race on Saturday. The only positive thing to write about the track was that there were eight races with eight winners. It was a very difficult surface with Kerrin McEvoy declaring it the 'worst' track he had ever ridden on when he came back on Savoureux after the first race. Savoureux put in a terrific performance coming from the rear of the field to run a gallant 4th.
Our clients who have raced horses with Kris Lees since I first sent him horses in 2005 when Bill Mitchell retired are very well aware of his immense talents. On Saturday Kris presented Clearly Innocent at Eagle Farm in superb condition. He had the right horse on a track he was confident he would handle with the best jockey in Australia riding. This was Kris at his best. I have received very positive feedback from some of our owners who backed Clearly Innocent on Saturday with his eventual starting price being very generous.
I know the owners of Clearly Innocent are very disappointed with the decision to transfer the upcoming Eagle Farm meetings to Doomben but racing Queensland had no option given the disgraceful condition of Eagle Farm. You might as well now throw the form guides out the window with Doomben likely to be quite firm for the upcoming meetings.
MAGIC MILLIONS NATIONAL SALE
I flew to Coolangatta on Monday hoping for a good result at the Magic Millions National Sale where we had Awasita, Hijack Hussy and Strike For Victory entered. These sales are tricky affairs and it is important to accurately assess the market and get the mares on the market while they are in the sales ring, you have about 2 minutes to sell them. I had anticipated reserves for Hijack Hussy and Awasita in the vicinity of $300,000 and $100,000 when I left Melbourne with no real figure in my head for Strike For Victory.
As the sale unfolded on Tuesday and after consultation with Harry Mitchell it was agreed the reserve for Hijack Hussy should be raised to $350,000 and Awasita dropped to $75,000. There had been good interest in both mares but while the sale was strong there were flat spots with mares without 'black type' struggling a little. As it turned out we did very well with Hijack Hussy fetching $400,000 and Awasita $200,000. Awasita's price was extraordinary. While she is as beautiful a mare as you are likely to see her dam had four foals race with no black type earned by any of them. It will be interesting to see which sires these two mares go to. They are both strong chances of being successes at stud and I would be happy to purchase a foal out of either of them. Awasita was the final horse remaining in our team of 2012, now six year olds. The 13 cost us $653,000 with 12 of them winning races. They won $1,397,692 in stakes money and were sold for $822,500 at the completion of their time with Prime Thoroughbreds.
When you consider to most of our clients racing is a hobby the overall picture painted here is quite good. We don't always get it right but I'm happy with the job we do and consider our whole process from buying the yearlings through to the completion of their racing careers being very thorough.
Almost from day one our strategy has been to purchase more fillies than colts at the sales and once again we have seen our owners get good returns with the sale of these mares. Unfortunately we didn't do as well as expected with Strike For Victory selling for $4,000 but that is the business we are in. The results of the sale on Tuesday was the highest grossing day in Magic Millions history with in excess of $44,000,000 being paid for the mares on offer. Added to this impressive figure was an 85% clearance rate.
Our industry is the strongest I have seen it. Two mares were sold out of mares we syndicated and raced. Brightness out of Unabated fetched $70,000 and Comprende out of Zelady was sold for $1,050,000. I quite often see horses running out of our mares and many of them have done a great job after going to stud. It is another aspect of the business that keeps me interested. It isn't surprising to see the market warming to the daughters of I Am Invincible.
Harry Mitchell once said to me that yearling sales are beauty contests with the big buyers really looking to buy the best types. The I Am Invincible fillies are nice horses with many offering a great outcross to the numerous Danehill line mares we have in Australia. Comprende was in foal to Champion sire Snitzel. The daughters of Hinchinbrook were well received with Samara Dancer selling for $825,000 and the two daughters of Husson sold for $400,000. By the end of day 2 the sale had grossed $78,283,000 with the clearance remaining above 85%.
ON THE TRACK
I'm looking forward to heading to Murwillumbah on Sunday to support Husson Boots. I went to my first meeting at Murwillumbah on Melbourne Cup day in 1976 with Brian Sullivan and Barry Champley. We had a great day backing a horse called Dysart winning and I remember backing Gold And Black each way in the Cup. We won the Murwillumbah Cup in 2001 with Desk Top Lover who then went on to win the Grafton Cup which qualified him for the Melbourne Cup although a hoof injury stopped him from gaining a start in the famous two mile race.
Our other runners are likely to be Chastity Strikes, Not Surprising, Honolulu Lass and Raido. We are continuing to have nice numbers running in barrier trials which flow through to be runners in the coming weeks which is positive. 10 June is shaping as a big day with Husson Eagle and Invincible Al likely to run at Flemington. Before we know it the Spring Carnivals in Sydney and Melbourne will be upon us. Good luck to our runners over the next week.
PEDIGREE UPDATES REALLY MAKE A DIFFERENCE
One of the reasons I love buying fillies as opposed to colts is that if you are in the right families there can be a lot happening to help our filly or mare. Recently we have had several examples of this occurring.
Firstly when the Smart Missile colt Debellatio won the Group 3 WA Sires Produce Stakes it again raised the profile of our fillies Honolulu Lass, Strike For Victory and the Smart Missile filly out of Devoirs we are currently syndicating. This is a strong female family in any case but with Debellatio being aimed towards the Caulfield Guineas the page could easily take another almighty hop. Husson Boots and Husson's Kiss are nice three year old fillies and both have received huge boosts through the efforts of two of their half-brothers recently. Husson's Kiss and the Sizzling filly out of Senro Kisaki we are syndicating are ½ sisters to the highly progressive Hong Kong galloper Victory Marvel which has won five races this season and looks a Group horse in the making.
Husson Boots is a beautiful filly, as good as you will see and her ½ brother New Predator, a four year old has had five wins in South Africa, two at Group 2 level as well as five Group placings, two at Group 1 level. This is a significant upgrade and with New Predator still racing there could be more good news to come.
In other good news the first season sire Epaulette has started off his career strongly with two winners from his first crop of runners in Europe. I purchased a beautiful filly by Epaulette at the Inglis Classic Sale and can't wait for her to get to the races.
STATE OF ORIGIN
Congratulations to the NSW supporters after the Blues dominant victory last night. It is hard to see Queensland coming back from such a loss but 'State Of Origin' is a tough business and Cameron Smith and his men will be giving it their all in the second game.
Queensland will need to contain the big NSW forwards if they are to have any chance. Last night there were simply too many gaps around the ruck with the pace of the game making it impossible to contain NSW once they made a half break. We were given glimpses of Jarryd Haynes brilliance last night with his explosive speed from a standing start an asset he has brought back from his stint in the NFL.
OUR YEARLINGS
Our yearlings are filling up with the All Too Hard, Sebring, Not A Single Doubt and I Am Invincible fillies fully subscribed.
I have 1.5 shares remaining in the Sizzling filly and 3 in the Smart Missile filly from the Gold Coast Magic Millions January Sale.
The Hinchinbrook colt from the Classic Sale is fully subscribed with 1.5 shares remaining in the Epaulette filly from this sale.
The Needs Further filly from the Tasmanian Magic Millions is almost complete with one share remaining in her and the Written Tycoon filly is filling up.
The Husson filly from Adelaide is fully subscribed with the Sizzling and Al Maher fillies going well. I have 1.5 shares remaining in the Husson filly from the Perth Magic Millions.
My aim was to buy 15 yearlings this year so I have room for one more if I find the right one at the Gold Coast next week.
View all of the available shares in Prime's yearlings HERE