John Ford Bloodstock Agent & Consultant

Main Areas Of Activity:
Buying and selling of all classes of thoroughbred bloodstock including racehorses, stallions, broodmares, untried stock, and ready to run 2yo and 3yo's, yearlings and weanlings.
Selection and Pin Hooking of Weanlings for Clients with excellent results
The sale and export of all classes of thoroughbred bloodstock and equestrian horses to various overseas countries, including associated arrangements for shipment and delivery.
Management of racing and breeding stock on behalf of local and overseas owners.
Other services include consultancy, valuations, stallion services, insurance, plus agistment and transport arrangements.
---
Successful Sales and transactions: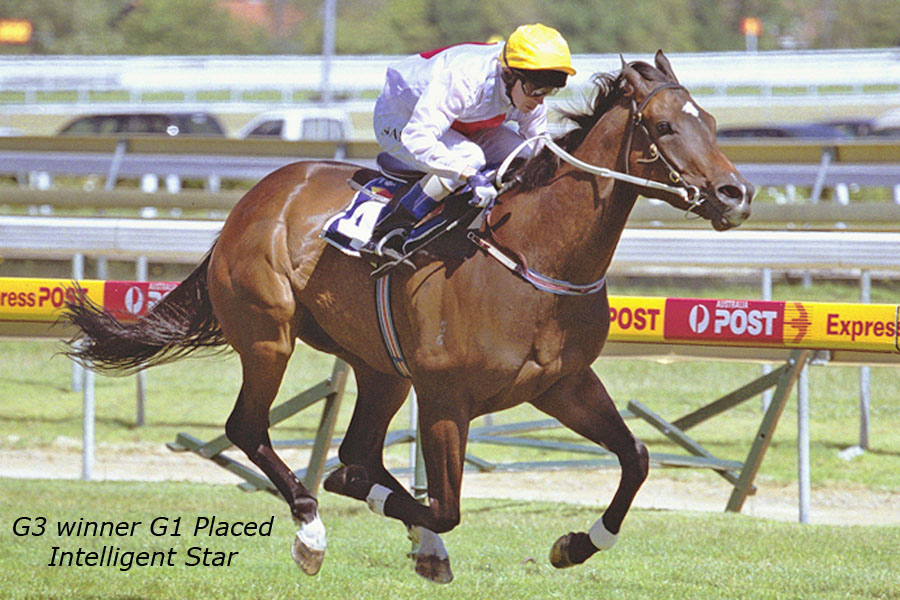 Racehorses purchased on behalf of clients over the past years include ALWAYS THERE (VRC Derby), DIVIDE AND RULE (AJC Derby), TAKSAN (VATC Caulfield Cup), LORD NELSON (AJC Epsom Hcp), PLUSH, NEAREST, ROMANTIC MISS, OFF HAND, BERBERIA, LEMON SPICE-dam of Chattanooga, Flying Spice, MISTY BREEZE, INTELLIGENT STAR (Pictured right) Stakes-winner of 9 races, INTELLIGENT KING 4 wins.
The company pioneered and maintained the successful export of Australian bloodstock to South East Asia and beyond, with excellent results.
Sold and exported to Singapore/Malaysia, a consistent number of winners in all classes on a regular basis.
Sold and Exported Polo Ponies to clients in Malaysia, Singapore, Philippines.
---
Qualifications and Industry Experience.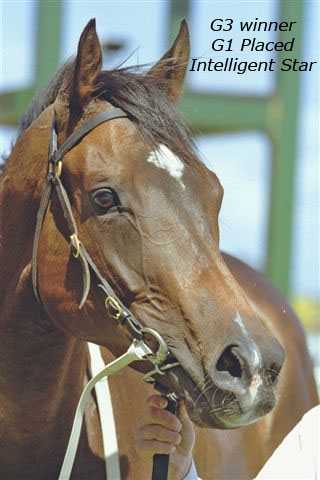 I have been actively involved in the Thoroughbred Industry and the Horse Industry in general for Forty-Eight (48) years, on a full time daily basis, initially in my capacity as General Manager of our family company Frank Ford (Livestock) Pty Ltd and in my own right since 1997. I am experienced in many varied aspects of the Horse Industry and during this time I have been personally responsible for all aspects of the selection, purchase, sale and delivery of all classes of Bloodstock and Equestrian Horses for and on behalf of valued clients within Australia and Overseas.
In addition I am an experienced horseman, having been a former International Polo Player and Showjumping Rider in my younger days, as well as being responsible for the general care and management of varying numbers of horses either on agistment for local clients or being prepared for Export to overseas clients.
I was personally responsible for all aspects of each shipment of horses exported by Frank Ford (Livestock) Pty Ltd to overseas countries, including Private and Government Veterinary Examinations and Inspections and the associated Documentation, Australian Stud Book Documentation, Air Freight, Inland transport, Customs documentation, and the organization of experienced grooms to accompany each shipment of horses to their overseas destinations.
The practical experience I have had with horses over the years combined with my knowledge of, and experience in the Thoroughbred Racing and Breeding Industry, places me in a position of respect in the Horse Industry in general.
In addition to the buying, selling and selection of Bloodstock and Equestrian horses I have acted as a Bloodstock Consultant for a number of clients requiring advice and opinions on Bloodstock and various aspects of the Horse Racing Industry, including Bloodstock Valuations, marketing, management of racing stock for overseas and local owners, Bloodstock Insurance.
I am a Full Member of all Three (3) Victorian Metropolitan Race Clubs as listed below.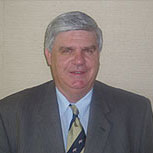 Memberships:
Victoria Racing Club.
Melbourne Racing Club.
Moonee Valley Racing Club..
Federation of Bloodstock Agents Australia Limited.
Thoroughbred Club of Australia Inc.
Yarra Valley Polo Club.
---
JOHN FORD BLOODSTOCK AGENT & CONSULTANT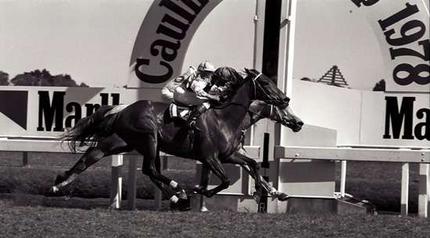 Address: PO Box 64, Oakleigh VIC 3166
Phone: (03) 9544 4895
Fax: (03) 9544 4463
Mobile: 0419 355 981
Contact: John Ford
Email: johnford@ozemail.com.au - Johnford20@bigpond.com
Commenced Operation: 1948