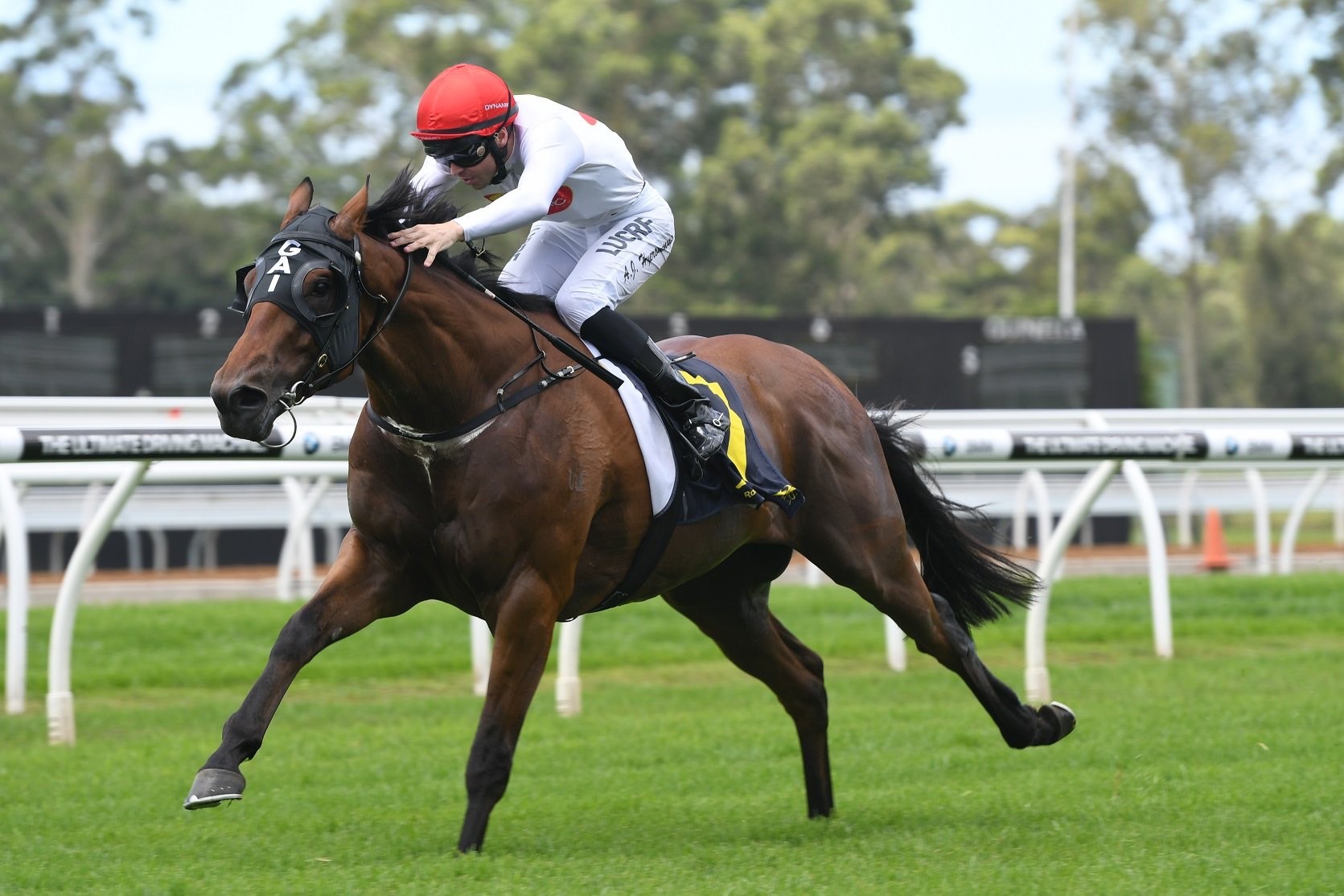 Highly promising 3yo Snitzel gelding ARBEITSAM (pronounced Are-Beat-Sam) led his high profile peers a merry dance and then broke their hearts when producing a crushing win over 1400m at Warwick Farm on Saturday 7 January.
Such was the dominance of the display that ARBEITSAM has forced his way into calculations for next Saturday's $2million Magic Millions 3yo Classic over 1400m.

The Gai Waterhouse and Adrian Bott trained sprinter looked a treat and raced right up to his looks when leading all the way to grab race 2 on the programme, the TAB Rewards 3yo Benchmark 70 Handicap, posting a 3.3 length x 0.2 length margin in a slick 1:24.47 with a last 600m of 35.97 which was a terrific time for a Slow 7 surface and stands as a CLASS RECORD.

Tactically Dynamic Syndications knew they were the only speed in the race and expected that they would have a soft lead. However, with the recent rain and the affected track showed the fence was off and they wanted Arbeitsam to be at least 4 to 5 deep no matter what, as he straightened for home.

Ridden a treat by the inform Adam Hyeronimus for the Gai Waterhouse and Adrian Bott Stables, the race panned out as expected and Arbeitsam won with authority.

As they jumped, Adam speared ARBEITSAM straight to the front and put the pace on for the first 400m, pushing the field out over many lengths as they tried to keep up.

Then allowed to get into a rhythm, they approached the point of the home turn when Adam urged Arbeitsam forward and the horse responded well, putting up a 3-length margin.

Adam allowed Arbeitsam to coast with 150m to run but when he saw pressure coming down the outside from the runner-up, Adam pushed the go button again and the horse extended away to post a big margin on the line, despite being given an easy time the last 50m.

Typical of horses trained by the Waterhouse / Bott Stables, this horse was strong through the line.

A huge result for ARBEITSAM who having claimed this event, has jumped his prizemoney up to $110,900 prizemoney which includes $25,000 in BOBS Bonuses.

A tidy result from 5 starts which include 2 wins and 3 thirds.

Having reviewed the field and qualification positions as they appear, Saturday's win shot Arbeitsam up to 19th position in the Magic Millions 3yo Guineas order of entry behind the 3 major competitors: Winning Rupert, Global Glamour and Eckstein.

However, the Magic Millions office has advised that at least 4 runners above Arbeitsam in earnings will not be running as they are in the spelling paddocks.

After a post-race meeting with Gai, it's agreed that if the horse steps freely from his box on Sunday morning, he can be on the first available track to the Gold Coast.

However, the strength of this race win has seen ARBEITSAM crunched in pre-market betting to be placed on the fourth line behind these big three.

Comfortable on a rain affected surface and better again on top of the ground, ARBEITSAM has earned and deserved his place in the Magic Millions Guineas field.

MM 3yo Guineas - Total Prize Money $1,890,000.

1st $1,200,000 / 2nd $370,000 / 3rd $180,000 / 4th $90,000 / 5th $50,000 - Field Limit 16

Three-Years-Old, Set Weights plus Penalties, Apprentices cannot claim

Congratulations goes to Dynamic Syndications Owners that race ARBEITSAM:

Dynamic Syndications Racing, Mr P M Roberts, Ms M Roberts, Mr G J Timmony, Mr H Sookias, Mrs S Halliwell, Mr M A Wolens, Mr S P Loane, Mr D C Batchelor, Mr J Yianni, Mr J N Allen, Mrs C A Read, Mr R J Gall, C J R Racing, Mr N W Honey, Mr L Seminara, Mrs R C Budd, Mr G Rassos, Mr L Woolhouse

Arbeitsam was a $120,000 Magic Millions purchase from the Macquarie Stud draft in 2015 and has given his owners a terrific run to date.

This was Dynamic Syndications 478th Race win and their 15th win for this 2016/17 racing season.

It's been a wonderful 2 weeks and top way to start the 2017 calendar year, after finishing 2016 with a winner - Dinky Di Dora. Now to start on the 2nd January 2017 with a win by Thorsborneat Doomben and Saturday's win by ARBEITSAM has continued a wonderful festive season for the Dynamic owners.