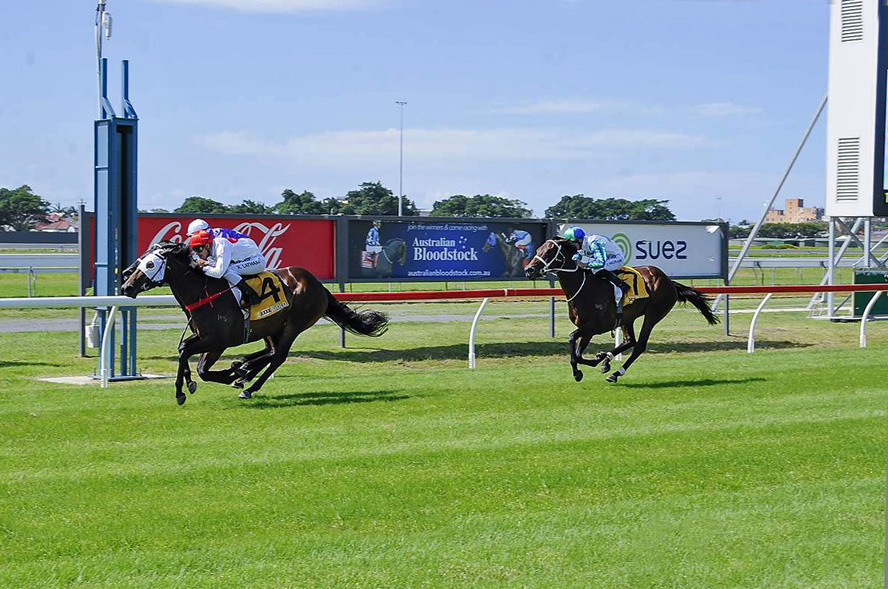 We've all heard that saying "Patience is a Virtue" however in racing, it's more often a truism.
Patience is the easiest thing to have and the most cost effective. When the time comes, the rewards can be spectacular.

The "old hard heads" of racing understand this position however it's not as simple for owners (especially new owners) to understand why it's often a requirement to give a horse time to mature and "grow into themselves."

It simply just sounds like racing jargon to many, as excitement and anticipation in the early days wanes, because the horse comes in and out of training but doesn't make it to raceday.

Dynamic Syndications sincerely thank our Top Team of Owners of SAVAPINSKI who never lost sight of the big game and were patient and tolerant, as we molded SAVAPINSKI into a racing prospect. They have been well rewarded for their faith in the system.

Such was the case on Saturday at Newcastle. Exciting 3yo filly SAVAPINSKI (by Savabeel ex Swarovski by Pins) gave her owners a thrilling debut on the racetrack when scoring with a determined display of courage, strength and natural talent.
A filly purchased to run up to 2000m as an autumn 3yo and spring 4yo, SAVAPINSKI headed up the highway from Randwick to Newcastle to debut over 1200m. This event was considered a nice stepping stone for the filly to give her exposure to travelling to the races and raceday rituals. On the strength of her two trials including a recent trial win, the stable was confident the filly would run well however we all acknowledged that as the race distances increase the filly will be better placed.

We had trailed at Randwick over 739m mid-February but then changed tact and elected to trial the horse again 11 days later on 27/2 at Wyong over the shorter 845m rather than at Randwick over 1200m. The decision was made to give the filly a trip away and help the education process. Also by only trialling over the 845m it made a natural progression to a 1200m debut rather than a 1400m.

We had identified this race at Newcastle along with another race 4 days later at Gosford, however despite believing the upcoming Wednesday race may be a better technical placement, early forecasts of heavy rain ahead of the race, swayed our decision to run at Newcastle.

This Newcastle race also had some interesting form lines coming into the event, based upon previous starts and trials of her peers. With an obvious favourite in the race, we were confident that our filly would run well but realistically, a placing would be a good result over this short 1200m.

This was a tough win by a courageous filly. It certainly wasn't the win of a "princess."

It was the win of a "street fighter". It was a tough, grinding, bash 'em up and break their hearts win, from a filly already wanting further than this 1200m trip.
SAVAPINSKI looked a class above them in the pre-parade ring. However whenever a race has multiple runners from one stable, including the short priced favourite, connections of other runners have to be wary of how the pattern of the race may unfold.

Not only did we have this threat to contend with, we also had to deal with an awkward barrier 6 in a field of 12, we were a 3yo filly, on debut, taking on older race experienced mares and raced 3yo's.
Then there was another question mark. Our rider Keagan Latham who has been riding work at Tulloch Lodge for several months since coming from South Africa, was having his first raceday rides in Australia. However we were all comfortable with Keagan as he has ridden hundreds of winners back home including a Gr1 winner.

As the field was loaded and were ready to go, SAVAPINSKI was sitting back in the barrier and was a fraction slow to jump away. Riding to be positive in the first 200m, Keagan drove SAVAPINSKI into forward spot but from barrier 6 was in an awkward spot 4 deep on pace. Keagan showed his years of experience and decided to go forward and find the fence.

At the 1000m, Keagan pushed the accelerator and SAVAPINSKI landed across on the paint. Controlling the tempo nicely from up front with the favourite, one pair back the fence on our back, getting a dream run.
The field ran along without change until starting the swing into the home straight. SAVAPINSKI lead for home but Keagan steered the filly one off the fence. This was risky because it allowed the gap for the favourite to sneak through on the fence. Noire hadn't spent a penny and when the gap came, it moved up strongly to SAVAPINSKI and seemed to get its head in front.

With 200m to run, the favourite Noire was eyeballing SAVAPINSKI in a driving, take no prisoners attitude between the pair.

However SAVAPINSKI and Keagan would not be denied. Under vigorous riding our filly took control and held out a determined Noire to score by a short neck with one and three quarter lengths back to third.
Post-race, Adam from Dynamic spoke with Keagan who reported how well the filly went, how courageous she was and how strong she was through the line. Keagan was confident the further the trip, the stronger she will be.

SAVAPINSKI is a 1/2 sister to Gr2 placed 4yo MULTIFACETS (by O'Reilly), a winner of 4 races from 1550m to 2000m.
Dynamic purchased SAVAPINSKI from the NZ Bloodstock Karaka Yearling Sale in 2015. At that stage MULTIFACETS was unraced.

Whatever the future holds for this filly, our owners look like they could have some fun times ahead.
Well done and thanks to GAI, ADRIAN and all the Team at Tulloch Lodge.

Congratulations to SAVAPINSKI's Team of Owners: